March 23, 2024 • Woodville, AL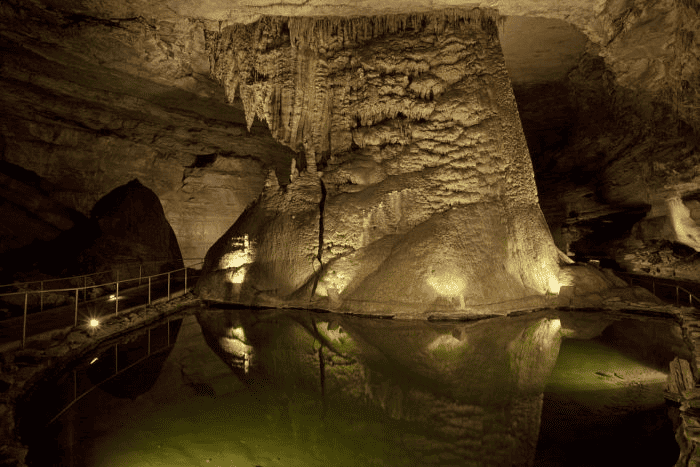 Back again offering arguably the most unique race there is in the United States and the world for that matter, the Race to the Cave Half Marathon and 10K is the only one of its kind, taking runners through the crown jewel of caves, caverns, and valleys in Cathedral Caverns State Park.
This race is known for one thing and one thing only; CAVES! What other race, trail or otherwise, provides the opportunity to run through caverns and cross the finish line in a cave?!
As you can expect, the sights and sounds of this race are otherworldly, only available to experience here in Woodville, Alabama.
This race begins in the awe-inspiring valley of Cathedral Caverns State Park along Cave Road. After a couple of quick twists and turns, runners will find themselves back on Cathedral Caverns Road before reaching the highway.
Expect the first five miles of this course to be largely in descent! Once you reach Thomas Line, however, the slow but persistent ascent begins, with the largest being from mile 7.2-8.7.
Ending with a 1.2-mile straight shot to the finish through the Cathedral Caverns, aka, A CAVE, this race will leave lasting memories for every runner, unlike any other half marathon event out there on offer.
Throughout the course, aid stations will be plenty, providing runners with everything from water and Gatorade to the ever-necessary Gu Gels for those in need of some additional energy!
There are free pulled pork sandwiches along with chips and a drink for all those who've finished this decadent race course. Of course, you'll walk away with a commemorative finisher's medal too.
In order to get that finisher's medal, however, runners must cross the finish line in under four (4) hours to qualify as an official Race to the Cave Finisher.
Race Weather & Climate
Set in the northern part of the state, 25 minutes east of Huntsville, the city of Woodville, Alabama, in mate March, signals the arrival of spring, with average high temperatures typically ranging from 66ºF to 71ºF and lows between 43ºF to 48ºF. With around 5 inches of rainfall for the month, runners can enjoy the budding foliage and pleasant weather while exploring the local trails and natural beauty.
On race day (March 23), the average temperature is 54.6°F
Race to the Cave Half Marathon & 10k Race Results
Race to the Cave Half Marathon & 10k Course Map
Starting Time
The half marathon and 10K start time is 8:00 AM.
The time limit for the half marathon is 4 hours.
The time limit for the 10K is 2.5 hours.
Registration
To reserve your spot in the 2024 Race to the Cave Half Marathon & 10k, you can use the registration link here.
Race Fees
There is a $75.00 fee for the half marathon.
There is a $55.00 fee for the 10K.
Race to the Cave Half Marathon and 10K Race Website
Race to the Cave Half Marathon