Saturday, April 20, 2024 • Cottonwood, AZ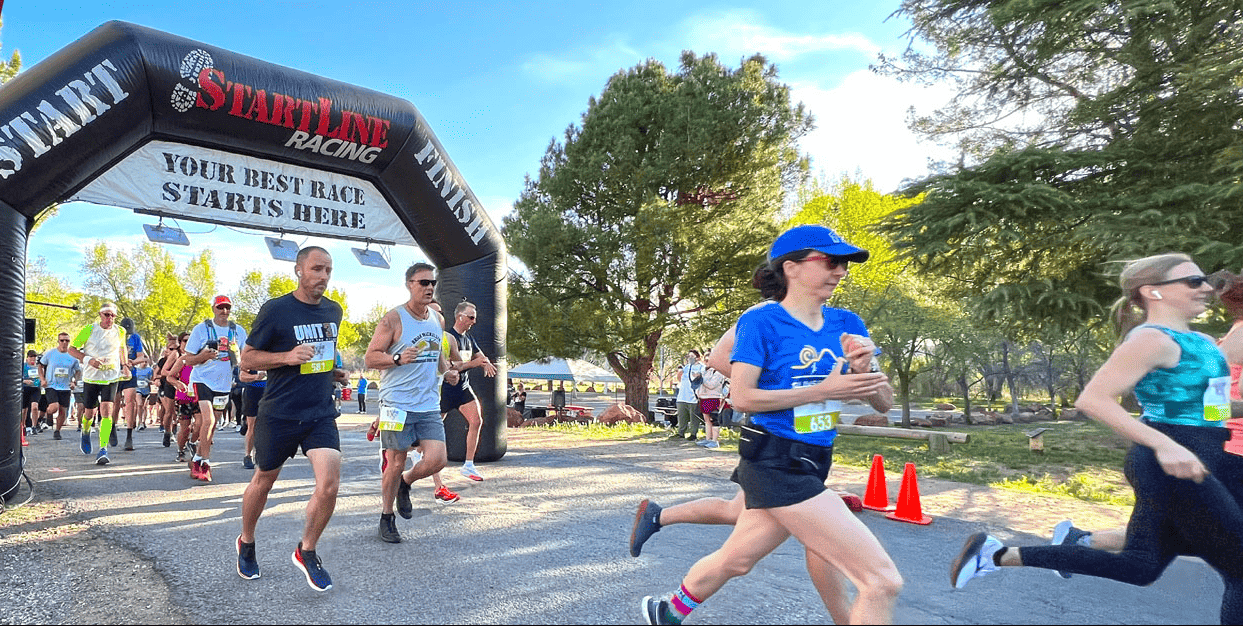 Formerly known as the Brian Mickelson Marathon which began in 2007, the Vintage Run/Walk Half Marathon, 10k, 5k, and 2 Mile race event was introduced in 2019 as a way to reinvigorate the community and bring to it a whole new running experience.
Providing the amazing opportunity for runners to journey through the heart and beauty of Arizona's Wine Country, this race which takes place in Cottonwood, Arizona, offers four unique and breathtaking courses.

Highlighting the natural beauty of Collingwood and surrounding areas, runners can expect to run through historical city landmarks and National monuments, open backroads surrounded by Arizona landscapes, and a series of wooded trails, some of which provide spectacular views of the Verde River.
Beginning and ending at Riverfront Park at 1284 E Riverfront Road, runners line up at 7:00 am sharp to embark on quite the scenic and loopy course, with several ins-and-outs, twists, and turns.
First, it's onto the first long section of the course; through the back trails of Collingwood City until reaching E Pinal Street. It's then immediately back on to the trails, crossing over Blowout Creek before looping back onto N 10th Street.

From there, it's a loop through Mabery Ranch Road before reaching Dead Horse Ranch State Park. Onward, runners will then journey through a series of twists and turns via Quail Campground, Red-Tail Hawk Campground, Blackhawk Loop Campground, and Verde River Greenway.

Finally, it's a retrace of footsteps back onto N 10th Street, heading back to Riverfront Park to finish.
So, if you want to be a part of an incredibly vibrant community racing event in the heart of Arizona's Wine Country, this race is surely for you!
Race Weather & Climate
Cottonwood, Arizona, is nestled in the central part of the state, surrounded by picturesque landscapes. The nearest major city is Flagstaff, approximately 60 miles to the north, offering a unique blend of small-town charm and access to Northern Arizona's natural beauty.
In late April, Cottonwood enjoys warm springtime temperatures. Daytime temperatures reach an average high of around 73°F (23°C), while nighttime lows drop to approximately 44°F (7°C). Precipitation levels remain relatively low.
On race day (April 20), the average low is 51ºF and the average high is 69ºF.
Cottonwood Vintage Run Half Marathon Race Results
Cottonwood Vintage Run Half Marathon Course Map
See the race route map for the Vintage Run/Walk Half Marathon course map here.
Starting Time
The half marathon start time is 7:00 AM.
Registration
To reserve your spot in the 2024 Cottonwood Vintage Run Half Marathon, 10k, 5k, & 2 Mile, you can use the registration link here.
Race Fees
There is a $55.00 fee for the half marathon.
There is a $35.00 fee for the 10K.
There is a $35.00 fee for the 5K.
There is a $25.00 fee for the 2-mile.
Vintage Run/Walk Race Website
Vintage Run/Walk Half Marathon, 10k, 5k, & 2 Mile Website