Sunday, June 9, 2024 • Chicago, IL • Course Map
Explore a different side of Chicago during the Bank of America Chicago 13.1. This race is a newcomer to the city's half marathon landscape.
Established in 2022, racers "get out of the Loop" during this run that takes participants through the neighborhoods of Chicago's West Side.
This cloverleaf course begins and ends in Garfield Park, a neighborhood home to the Garfield Park Conservatory, one of the nation's most extensive botanical conservatories.
Throughout the course, eight aid stations are available, offering medical support, porta potties, water, and energy drinks.
From the starting line near the Garfield Park Gold Dome Field House, runners begin their route traveling north to Humboldt Park, where they complete a two mile loop before circling back to Garfield Park for the second half of the race.
After mile 6, runners turn south to loop through Douglass Park, a 218-acre city park replete with ponds, gardens, and playgrounds for city dwellers to explore. At mile 10, runners make their way back to the finish line for a race day festival.
This race day celebration features live music, yoga sessions, dance performances, USATF clinics, and more. During the event, spectators and runners alike can also explore booths that connect them to sponsors and community groups featuring products and services available in the surrounding area.
Despite it's position as one of the newest half marathons in the Windy City, we consider it one of the best in the world.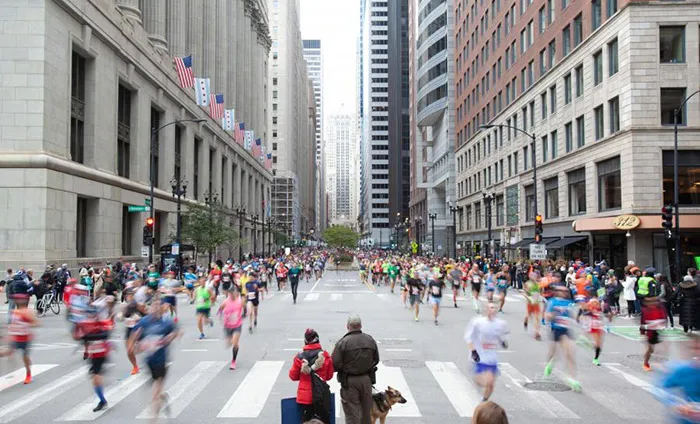 Take Note
This course is not walker friendly. The race's time limit is 3 hours and 15 minutes, which requires runners to maintain a pace of at least 15 minutes per mile. After the cutoff time, the course reopens to vehicular traffic, and those who finish beyond the time limit will not be recorded as official finishers and may not receive all on-course support.
Race Weather & Climate
Weather in Chicago begins to turn warm as spring gives way to summer. Be prepared for overcast or rainy conditions, however, which are common this time of year. In June, average daily temperatures range from 68°F to 80°F.
Past Results
Course Map
See the race course map for the Chicago 13.1 here.
Starting Time
7:00 AM
Fees
See race website.
Registration
To secure your spot in the 2024 running of the Bank of America Chicago 13.1, register at the official website below beginning in fall 2023.
Official Race Website
When is the Bank of America Chicago 13.1?
The Bank of America Chicago 13.1 will take place June 9, 2024 at 7:00 AM CT.
How much does it cost to participate in the Bank of America Chicago 13.1?
Price of registration ranges from $95 to $115.
How many people run the half marathon?
Around 5,000 runners.