Saturday, November 11, 2023 • Avalon, CA • Course Map

Note: A virtual option is available for this event. Registration details are included below.
A great race for trail runners or those looking for a new challenge, the Catalina Island Eco Half Marathon features gorgeous views of the Pacific Ocean, rugged terrain and lots of elevation change, which means it isn't a race is for the PR-seeker.
The course begins in Avalon and begins to climb nearly right from the beginning. Runners will take Wrigley Terrace Road and climb nearly 400 feet before the second mile marker. The course will continue onto Renton Mine Road where a series of switchbacks will carry runners over the next few miles as the climb higher and higher.
At the 4.7 mile mark, runners will hit East Peak at 1,563 feet and will continue their climb until they topple out at over 1,600 feet. Once on East End Road, runners will hit that elevation high and then begin a short downhill section for less than a mile. The water station at the 6.2 mile marker will be the designation of another short climb followed by a descent to the 7.4 mile marker.
The course climbs again at Memorial Road and runners will need to complete an out-and-back section along Divide Road. Once runners come to the Hermit Gulch Trail water station at mile 9.8, the rest of the course is truly downhill.
Over the next 3.2 miles, runners will descend 1,500 feet back to Avalon. This quad-burner finish is sure to test even the most seasoned runner, but will promise to be a fun way to fly through the final miles.
Awards will be given to the top 3 male and female overall finishers and well as the top 3 in each division. All finishers will receive a medal. This is a cupless event so runners will need to bring a bottle, pack, or container for their water.
Additionally, runners must be responsible for getting to the island. There are overnight packages available for purchase by participants.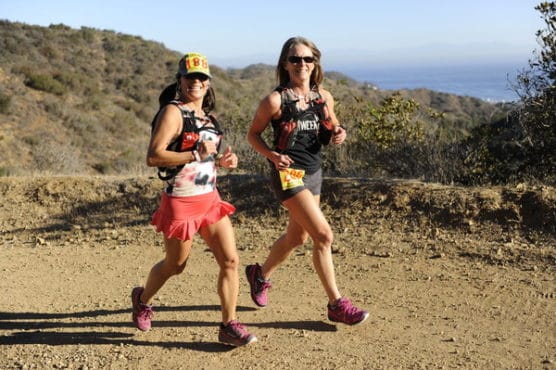 All photos courtesy Spectrum Sports/Catalina Island Half Marathon
Here's how the race organizers describe it:
"It's the hardest race you will ever love!
"Experience the spectacular views of the Pacific Ocean and the island's wildlife. Sign up for either 13.1 miles and run some of the most beautiful, rugged and breathtaking trails you will ever experience!
"All half marathon finishers receive a medal & training shirt! All 10K runners receive a shirt and the overall finishers & top three in each age group receive a medal. All Kids will receive a finisher medal.
"In cooperation with our host, Catalina Island Conservancy, the Catalina Island Half Marathon is a cup-less course for hydration, we will be offering participants the option to purchase a $5 Hydrapak reusable soft-cup or provide your own hydration system. Thank you for helping us reduce the footprint on the island!"
Race Weather & Climate
Catalina Island features a very mild subtropical climate with warm temperatures year-round. Average November temperatures are in the mid-60's for the highs and mid-50's for the lows, while an average of 2.68 inches of rain falls in November.
On race day (Nov. 11), the average low is 52ºF and the average high is 68ºF.
Past Results
Course Map
See the race route map for the Catalina Island Eco Half Marathon here.
Starting Time
8:00 AM – half marathon
8:15 AM – 10K
10:00 AM – kids race
Fees
$100 – $140 for the half marathon
$40 – $65 for the 10K
Registration
To reserve your spot in the 2023 running of the Catalina Island Half Marathon or 10K race, register online at RunSignUp.com here.

Official Race Website
Comments
Ever run in the Catalina Island Half Marathon? Share your impressions here, or post your review in the Comments below.