Saturday, January 6, 2024 • Riverside, CA • Course Map

You'll get the chance to run among the orange, lemon and grapefruit groves of California's Inland Empire at the 12th annual running of the Citrus Heritage Run Half Marathon, 10K & 5K, which unfolds along an out-and-back route that starts and finishes at Riverside's Arlington Heights Sports Park, and features a challenging and scenic course.
As mentioned above, the race begins near Arlington Heights Park on Victoria Avenue in Riverside, a city of more than 310,000 people roughly an hour east of Los Angeles and whose history dates back to the 1870s, when the U.S. Department of Agriculture sent a pair of small orange trees to a local resident named Eliza Tibbets.
After she planted the trees in what turned out to be the perfect soil and climate for growing citrus fruits, word spread about the region's sweet and flavorful oranges.
Within a few years an industry was born, and California experienced a kind of second "Gold Rush" (after the 1849 one) as would-be fruit growers poured into the state, and began growing lush groves of oranges, lemons, and many other fruits.
From the starting line on Victoria Avenue, runners head first northeast for the first mile, and then turn right onto Adams Street, and then again onto Cleveland Avenue.
These first few miles unfold along a very gradual ascent as runners make their way south toward the California Citrus State Historic Park, a 248-acre park that's bisected by the Gage Canal, and is really an open-air museum for the state's citrus industry.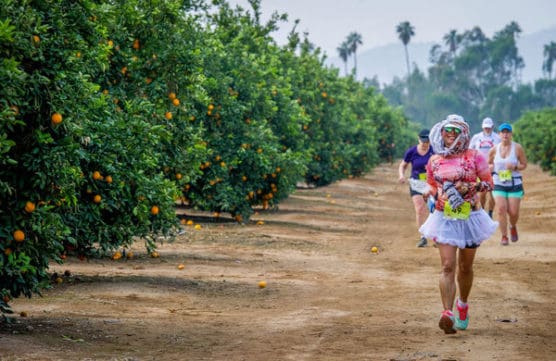 Once they make it into the park, runners will head along a slight up-and-downhill as they complete an out-and-back stretch just past the mile 4 marker. Next, they head deeper into the citrus groves and this is where the hills become more challenging.
The next few miles around the middle portion of the course — miles 5 through 8 — feature an elevation climb of about 200 feet, out in the open sun among the citrus trees.
After they pass between miles 7 and 8, the course begins heading downhill again along Irving Street, which brings them north past rows of agricultural fields filled with plentiful fruits, rose gardens and palm trees.
The final few miles of the race keep bringing runners north along Dufferin Avenue, Jefferson Street, Cleveland Avenue, Grace Street and Victoria Avenue, the stretch that begins the fast downhill back in to the finish line at Arlington Heights Sports Park.
The race is organized by the Riverside Road Runners, a locally-based running and walking club, and proceeds from the event help support running programs for local students, and help pay for race entry fees and training costs for many students to participate in marathons around Southern California.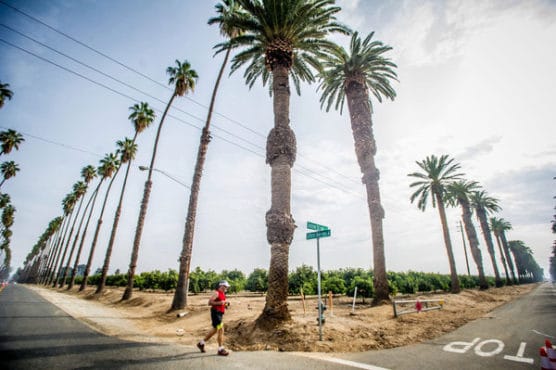 Photo by Eric Reed/Courtesy Citrus Heritage Run
Race Weather & Climate
Located in Southern California, just south of San Bernardino and roughly 60 miles east of downtown Los Angeles, Riverside typically sees January temperatures between 43ºF and 68ºF, while rainfall amounts average just over 2.3 inches for the month — making January its second-wettest month of the year.
On the day of the race (Jan. 6), the average low is 43ºF and the average high is 68ºF.
Past Results
Course Map
See the Citrus Heritage Run Half Marathon course map here.
Starting Time
see event website
Fees
$85 and up for the half marathon
$55 and up for the 10K
$40 and up for the 5K
Registration
To reserve your spot in the winter 2024 running of Riverside's Citrus Heritage Run Half Marathon, 10K or 5K race, register online at RunSignUp.com here.

Official Race Website
Comments
Ever run in the Citrus Heritage Run Half Marathon? Share your impressions here, or post your review in the Comments box below.