Sunday, March 29, 2020 • Encinitas, CA • Course Map

Set for its 4th annual running as winter is giving way to spring in Southern California, the Encinitas Half Marathon is set to take runners on a tour of this beach city perched atop the dunes overlooking the Pacific Ocean near San Diego, along a course that runs through Encinitas and the nearby towns of Cardiff and Solana Beach.
Start at Moonlight Beach. Here in the city that's home (or been home) to celebrities like actor Richard Dreyfuss, singer Eddie Vedder and legendary skateboarder Tony Hawk, runners will follow an out-and-back course that starts in the parking lot overlooking Moonlight State Beach, a gorgeous and scenic part of the coastline here just off 3rd Street.
From there, you'll head south into old town Encinitas and then continue south toward Swami's State Beach, considered one of the best places for surfing in the world – it was even mentioned in a Beach Boys song back in 1963, "Surfin' USA.". You'll remain on Highway 101 for the next few miles all the way down through Cardiff and the San Elijo Lagoon to Seaside State Beach, where you'll make the second turnaround of the race at Lomas Santa Fe Drive.
Once you make the turn, the race heads back along 101 all the way north through Cardiff and the San Elijo Lagoon, one of the largest remaining coastal marine reserves in the San Diego County area.
From there, you'll run through town to a short out-and-back along historic Highway 101, which stretches more than 900 miles between Oceanside and La Jolla, linking plentiful quaint, scenic beach towns dotted with old Victorian homes, cafes and funky shops all up and down the Southern California coast.
The course time limit is 3 hours, 30 minutes, which means you'll need to keep a pace of 14:53 per mile or better in order to complete your 13.1 miles. The race is limited to the first 5,000 entrants, so interested runners are encouraged to sign up early.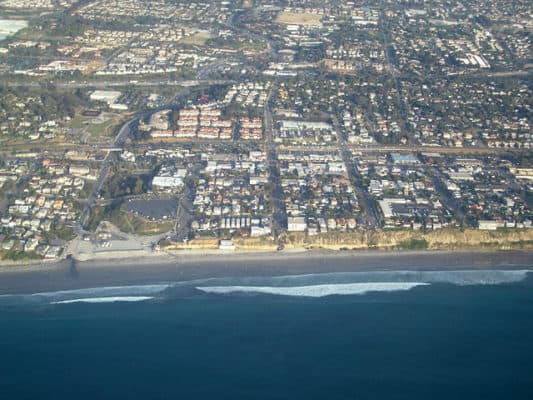 Moonlight Beach Park, with old town Encinitas in the background. Photo by Wikimedia Commons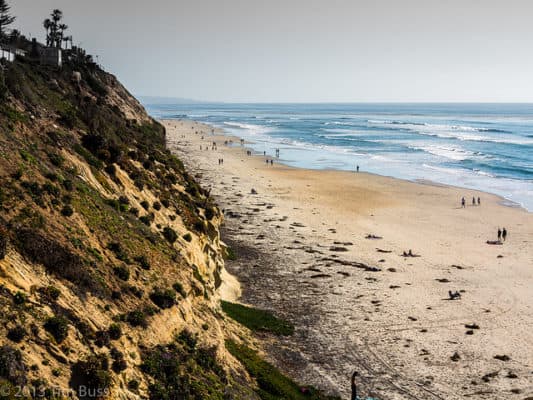 Encinitas Beach, seen from the Stone Steps. Photo by Tim Buss/flickr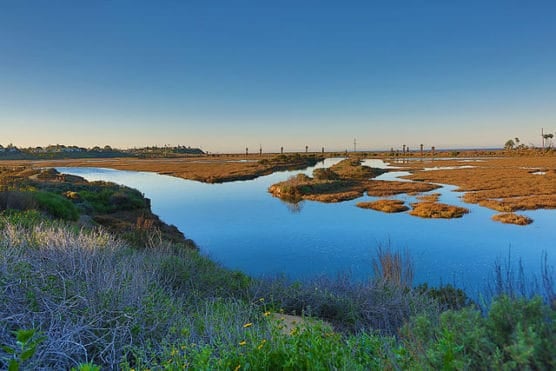 A view of San Elijo Lagoon. Photo by Wikimedia Commons
Race Weather & Climate
Nestled along the Pacific coastline in Southern California, roughly 25 miles north of San Diego and about 95 miles south of Los Angeles, Encinitas typically sees mild to moderately warm and its second-wettest weather of the year in March, which brings an average of just over 2.8 inches of rainfall.
On race day (March 29), the average low is 49ºF and the average high is 69ºF.
Past Results
Course Map
See the race route map for the Encinitas Half Marathon here.
Starting Time
see event website
Fees
$85 – $125 for the half marathon
$44 – $54 for the 5K
$65 for the virtual race
Registration
To reserve your spot in the spring 2020 running of the Encinitas Half Marathon, register online at RunSignUp.com here.

Official Race Website
Comments
Ever run in the Encinitas Half Marathon? Share your impressions here, or post your review in the Comments below.