Sunday, March 17, 2019 • San Jose, CA • Course Map

Set for its 9th annual running this year and featuring a new course and location in 2018, San Jose's (formerly Los Gatos) Go Green St. Patrick's Day Half Marathon, 10K and 5K takes runners on an out-and-back loop route that winds through the city and around the roads of Hellyer Park.
With its label as a "Go Green" race, the event's organizers also hope to set an example of how to put on a road race in a city in an environmentally sensitive way, by partnering with organizations like Hydra Pour, in hopes of dramatically reducing the number of paper cups that get thrown and littered on the roadways in most races.
As for the race course itself, the route starts near the northern end of Hellyer County Park, a 178-acre urban park with Coyote Creek meandering through the park and the Coyote Creek Parkway, a greenway trail that extends both northward and southward from each end of the park and provides the paved running and walking trails that participants will follow for the stretches of the race that take them outside the park.
From the starting line near the Sylvandale Group Area behind the Velodrome, runners continue south through the park and then out of the park on the Coyote Creek Parkway. Runners stay on the trail for the majority of the course, enjoying the tranquility of Coyote Creek before reaching the turnaround point at Metcalf Park.
From there, runners then head back northward along the winding creek trail until they reach the Velodrome at Hellyer County park again.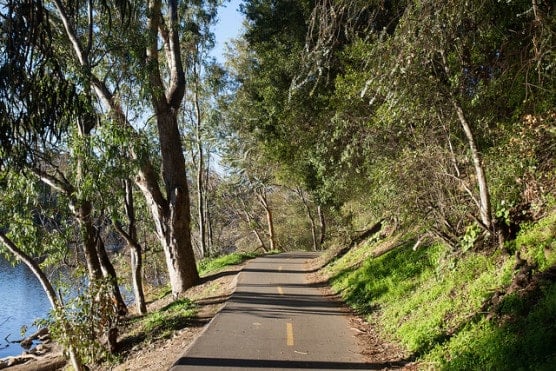 The road along the lakeshore in Vasona Lake County Park near Los Gatos, California. (Photo by Eugene Kim/flickr)
Race Weather & Climate
Located in the area known as South Bay of the San Francisco Bay Area, roughly 12 miles southwest of San Jose and just over 50 miles southeast of San Francisco, Los Gatos typically sees some of its mildest weather of the year in March, which has brought record temperatures here as low as 27ºF (in 1953) and as high as 88ºF (in 1960).
On race day (March 17), the average low is 43ºF and the average high is 65ºF.
Course Map
See the race route map for the Go Green St. Patrick's Day Half Marathon here.
Starting Time
9:00 AM – half marathon
9:10 AM – 10K
9:20 AM – 5K
Fees
$55 – $80 for the half marathon
$30 – $50 for the 10K
$25 – $45 for the 5K
Registration
To reserve your spot in the 2019 running of San Jose's Go Green St. Patrick's Day Half Marathon, 10K or 5K race, register online at RunSignup.com here.

Official Race Website
Facebook Conversations
Ever run in the Go Green St. Patrick's Day Run? Share your impressions here, or post your review in the Comments below.