Sunday, December 6, 2020 • Riverside, CA • Course Map

Part of a race series sponsored by Lexus, the LaceUp Riverside Half Marathon takes runners on a hilly course about 60 miles east of Los Angeles, here in the largest city in California's Inland Empire, and the birthplace of the California citrus industry.
The race features a few out-and-back stretches and plenty of rolling hills, and runners begin along the edge of Fairmount Park, next to the Santa Ana River.
From there, the first stretch of the race is a great way to get warmed up for the challenging hills ahead, with a moderate hill greeting runners in the first few miles. Once the course reaches Mission Inn Avenue, it is time to begin the climb just outside of Mount Rubidoux Park. The course continues through Downtown Riverside and into Ryan Bonaminio Park. Racers will travel through the park and exit onto the Santa Ana River Trail.
At Rubidoux Avenue, the course climb up and away from the River Trail and runners will make a loop on Grand Avenue, Bandini Avenue, and Palm Way. After making a large circle, racers will hop back on Rubidoux Avenue and pick up the Santa Ana River Trail again.
Runners take the Santa Ana River Trail all the way to Martha Mclean-Anza Narrows where they will make a U-turn inside the park. As they turn around, runners will begin to retrace their steps along the Santa Ana River Trail. The course is mostly flat in this section and racers should conserve their energy for the final ascent towards the finish.
At Ryan Bonaminio Park, runners will remain on the Santa Ana River Trail to reach Mount Rubidoux Park. The course runs the outer loop of the park with views of the Santa Ana River to the left. Runners will climb the final section towards Fairmount Park and make their way towards the finish line.
All finishers are invited to stay for a post-race brunch featuring a Sierra Nevada beer toast.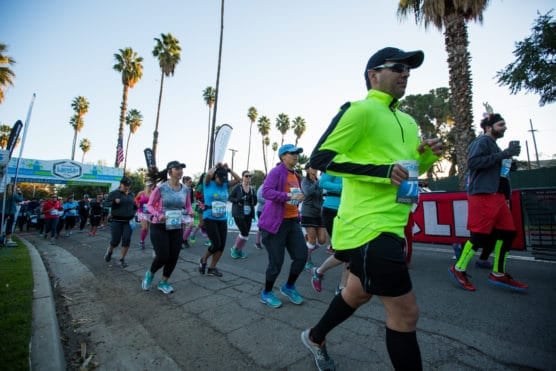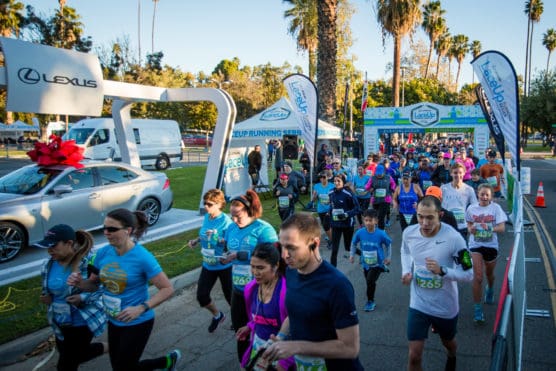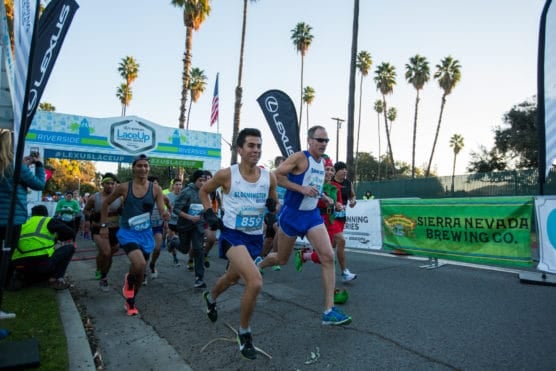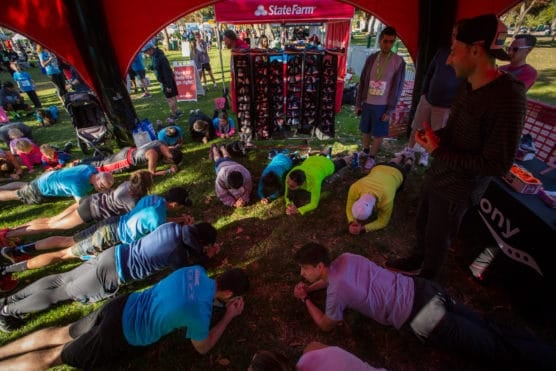 All photos courtesy Lexus LaceUp Running Series
Race Weather & Climate
The Riverside, California, area features a semi-arid Mediterranean climate with hot, dry summers and mild, relatively wet winters. Decembers are mild with temperatures ranging from the mid-40's for the lows and upper 60's for the highs.
On race day (Dec. 6), the average low is 42ºF and the average high is 69ºF.
Past Results
Course Map
See the race route map for the Lexus LaceUp Riverside Half Marathon here.
Starting Time
7:00 AM – half marathon
7:20 AM – 5K
Fees
$85 – $100 for the half marathon
$40 – $50 for the 5K
Registration
To reserve your spot in the 2020 running of the Lexus LaceUp Riverside Half Marathon or 5K race, register online at RunSignUp.com here.

Official Race Website
Facebook Conversations
Ever run in the Lexus LaceUp Riverside Half Marathon? Share your impressions here, or post your review in the Comments below.