Saturday, November 7, 2020 – Sunday, November 8, 2020 • Malibu, CA • Course Map

Note: The 2020 race is a virtual event. Registration details are included below.
Rocky bluffs, sandy beaches, waves crashing against the shoreline, and plenty of rugged hills await on a gorgeous out-and-back route along the Pacific Coast Highway at the Malibu Half Marathon, which makes its 12th annual running this year with the 13.1-mile and 5K race.
Though in past years the race has included a full marathon and kids' races, the event now focuses on the half marathon only, with a course for the 13.1-miler that will start and finish at Zuma Beach.
From the starting line for the half marathon, the course then proceeds from east to west entirely along the Pacific Coast Highway to the half-way turnaround near San Nicolas Canyon. After they make the turn, runners head back along the route they've just run, back to the finish line at Zuma Beach.
When they cross the finish line, runners will receive not just a race medal but also a commemorative race towel, which they can use to dry off after they've taken a dip in the ocean to cool off after the race finish.
Along the way, the race route offers some of this part of coastal California's truly spectacular views. While the first several miles of the half marathon route offer up pristine coastline — along which the only modern intrusion is the highway — the last few miles bring runners past beautiful beachfront homes, one after another, many of which are owned by Hollywood's biggest names.
The course for the race is USATF-certified, and organizers add that runners will have 4 hours to complete the half marathon.
The organizers stress: "Do not be late!"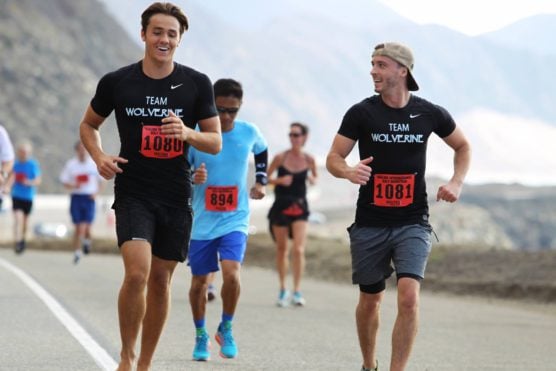 All photos courtesy Malibu International Half Marathon
Race Weather & Climate
Nestled along the Southern California coastline, about 38 miles west of downtown Los Angeles, Malibu typically sees mild to moderately warm weather virtually year-round.
In November, temperatures average between 54°F and 67°F — on the day of the race (Nov. 8), the average low is 56°F and the average high is 68°F — while rainfall totals average just over 1 inch for the month.
Past Results
Course Map
See the race route map for the Malibu International Half Marathon here.
Starting Time
7:00 AM – half marathon
7:30 AM – 5K
Fees
$49 for the virtual half marathon
$35 for the virtual 5K
Registration
To reserve your spot in the 2020 virtual running of California's Malibu Half Marathon or 5K race, register online at RunSignUp.com here.

Official Race Website
Facebook Conversations
Ever run in the Malibu International Half Marathon? Share your impressions here, or post your review in the Comments box below.