Sunday, June 28, 2020 – Monday, August 31, 2020 • Mammoth Lakes, CA • Course Map
Note: The 2020 race is a virtual event to be run anytime before August 31. Registration details are included below.
You'll start this stunningly picturesque race through Northern California's High Sierras at roughly 9,000 feet above sea level, and follow a route that runs along a combination of trails and mountain roads — including stretches around lakes and across a bridge — at the Mammoth Half Marathon, set for its 8th annual running this year.
After taking a shuttle to the starting line, runners will line up for the race start at Horseshoe Lake, and spend the first mile heading towards Lake Mary. Around the first mile marker, runners will begin to go counterclockwise around the lake for the next two miles, running through an area popular for hiking, fishing and camping.
Once they make it past the third mile marker, runners begin a descent of almost 1,000 feet over the next three miles, making their way along Lake Mary Road and towards the town of Mammoth Lakes. Just past mile marker 5, runners will begin to encounter more signs of life as they reach the outskirts of town.
(MORE: 5 Gorgeous Photos of California's Mammoth Half Marathon)
Past mile marker 6, the course makes a sharp right turn onto Minaret Road. Runners will continue along until Minaret Road intersects with Meridian Boulevard. The next couple of miles runners will encounter a series of turns and switchbacks along a bike path as they make their way towards Waterford Avenue and mile marker 9.
Once reaching Old Mammoth Road, the course heads east for a few miles traversing both roads and bike trails. At just past the mile 10 marker, runners will begin to head out away from the main roads for approximately a mile and a half. Once they near 11.5 miles, the course will begin to loop back west and runners will cross over Meridian Boulevard.
The final mile takes runners back into town until the path intersects with Sierra Park Road where the course takes a sharp left. A right on Tavern Road and a left on Old Mammoth Road will bring runners to the finish line.
The top five male and female overall winners will receive cash prizes. Top three masters and top three in each age group will receive awards.
Due to the COVID-19 pandemic, the race has gone virtual, and a limited number of spots are available for runners who haven't already registered. Run the course of your choice before August 31 and receive your race goodies in the mail.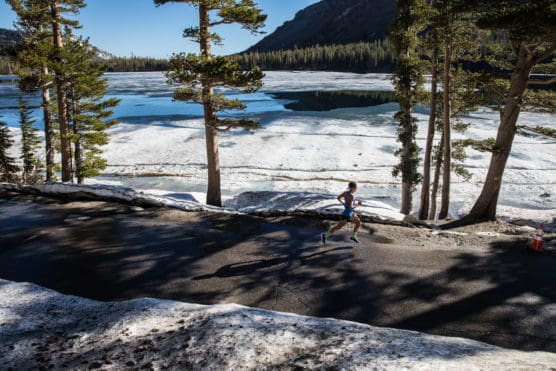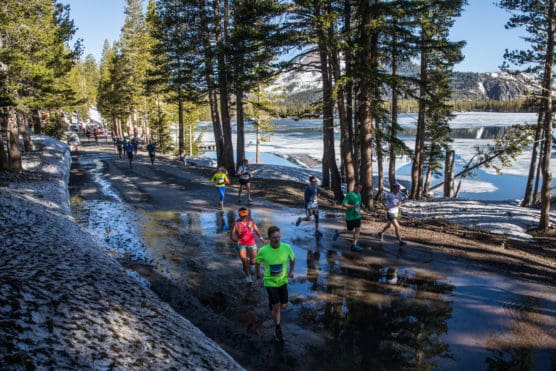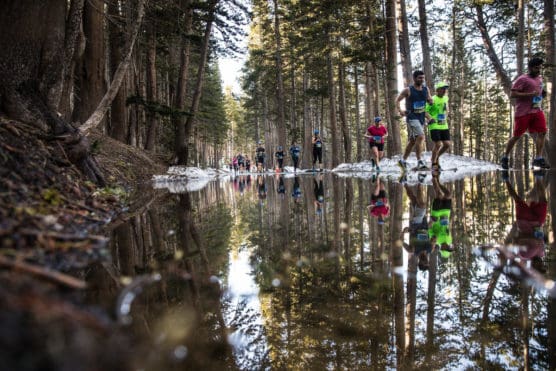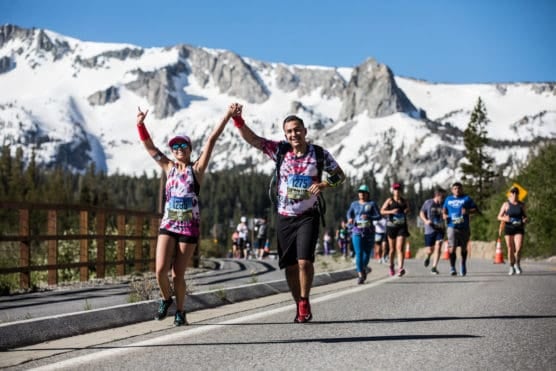 All photos by Christian Pondella/Mammoth Half Marathon
Race Weather & Climate
At roughly 9,000 feet in elevation, Mammoth Lakes has a Mediterranean climate with dry, hot summers. Morning temperatures in June can be in the low 50s with average highs in the 80s, and rainfall here is extremely rare this time of year, averaging less than a third of an inch for the month.
June 28

average low temp: 48ºF

June 28 average high temp: 78ºF
Past Results
Course Map
See the race route map for the Mammoth Half Marathon here.
Starting Time
your choice
Course Time Limit
4 hours
Fees
$79 – $125 for the half marathon
$45 – $60 for the 5K
Registration
To reserve your spot in the 2020 running of the Mammoth Half Marathon or 5K race, register online at WaveReg.com here.
Official Race Website
Comments
Ever run in the Mammoth Half Marathon? Share your impressions here, or post your review in the Comments below.