Sunday, July 9, 2023 • Castro Valley, CA • Course Map
You'll get to run along the gorgeously scenic hiking, running and biking trails of California's Lake Chabot Regional Park — which, for the race, organizers are calling "Loch Chabot" — at this summertime event, which features a mix of paved and natural-surface trails that hug the shoreline of the lake for most of the race.
Lake Chabot, where the race takes place, is a 315-acre lake whose history dates back to the 1870s, when it was built as a primary water source for nearby towns in the East Bay. While today it's a popular place to go fishing, hiking, boating, swimming, golfing and canoeing — as well as running and cycling along its trails — what is now the park was closed for more than 90 years, until it was opened up for recreation in the 1960s.
Today, of course, it's home to more than 20 miles of walking, hiking and bicycling trails, and it's along these that you'll run the race, starting near the southern end of the lake, where the park's West Shore Trail and East Shore Trail meet.
From there, you'll follow a clockwise route along the shore of the lake, passing by the dam, the Lake Chabot Golf Course, some Castro Valley neighborhoods and more, all with the area hills off in the distance. Here's how the race organizers describe it:
We cannot promise you'll encounter any cryptic, aquatic creatures at Loch Chabot, but you might! We DO promise a gorgeous trail run on the scenic trails of Loch Chabot Regional Park, some quality nature therapy, and some incredible views!
If you're not up for running the event in person, organizers also are offering virtual events at discounted rates.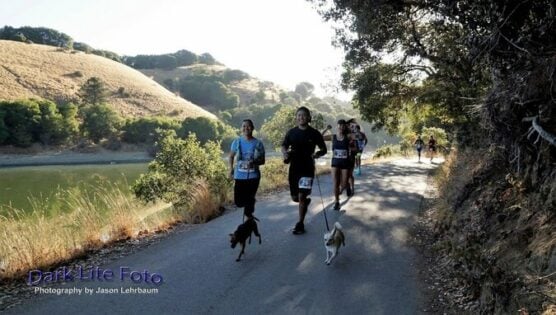 All photos courtesy Rock the Loch Half Marathon
Race Weather & Climate
Located along the eastern shore of San Francisco Bay in Northern California, about 25 miles southeast of downtown San Francisco, Castro Valley typically sees mild to moderately warm (and usually very dry) weather in July, which averages between the upper 50s and the mid-70s.
July 9 average low temp: 58°F
July 9 average high temp: 74°F
Past Results
Course Map
See the race route map for the Rock the Loch Half Marathon here.
Starting Time
9:15 AM – half marathon
9:30 AM – 10K
9:45 AM – 5K
Course Time Limit
3 hours, 45 minutes
Fees
$80 and up – half marathon
$55 and up – 10K
$50 and up – 5K
Registration
To reserve your spot in the 2023 running of Castro Valley's Rock the Loch Half Marathon, 10K or 5K race, register online at RunSignUp.com here.

Official Race Website
Comments
Ever run in the Rock the Loch Half? Share your impressions of the run here, especially anything about the course/terrain that you think other runners might want to know.