Sunday, April 14, 2024 • San Diego, CA • Course Map
Set for its 6th annual running around the sun-dappled waters of Mission Bay, this half marathon features a fast and very flat course that offers the chance to take in the gorgeous skyline of San Diego and its beaches, and run past some of its best-loved attractions.
You'll start the race at Tecolote Shores, a beach area that overlooks the bay from just south of the Hilton San Diego Resorts and Spa, along Enchanted Cove. From there, you'll head south and then west along the roads and trails that run alongside the bay, through South Shores Park and then past SeaWorld San Diego.
After you make it across the bridge at Mission Bay Drive, you'll head over to Ventura Cove Park and then to the residential areas at Mission Beach Park. That will take you up along the beachfront and past Belmont Park, where you'll pass the Giant Dipper Roller Coaster along the way.
Later stretches of the race keep you running around the bay, with stretches through Bay View Villas and Riviera Drive, and then through Crown Point Park and later through Mission Bay Park.
All throughout the course, the elevation rises barely register — most of the course lies at about a dozen feet above sea level, and it's a mixture of paved roads and trails through the parks along the waterfront.
You'll need to keep a pace of 16 minutes per mile or faster in order to finish the half marathon within the 3 1/2 hour time limit.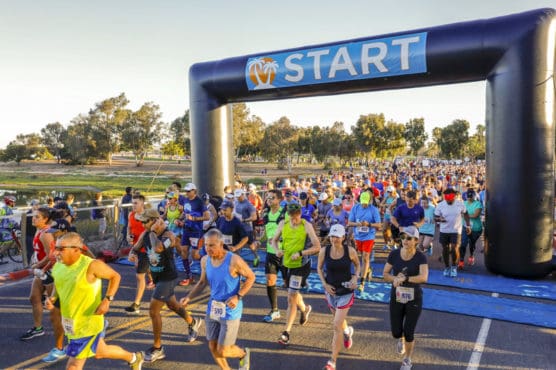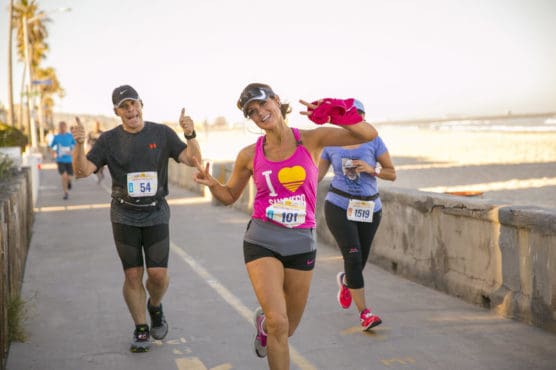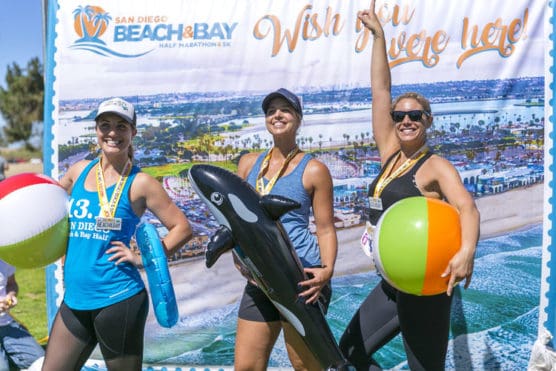 All photos courtesy San Diego Beach & Bay Half Marathon/3PIXstudios
Race Weather & Climate
Perched along Southern California's Pacific coastline, San Diego is known for its mild climate and sunny skies throughout most of the year, and has often been called one of the nation's best climates. April brings temperatures in the mid-60s to upper 60s, with mostly dry weather.
On race day (April 14), the average low is 56ºF and the average high is 69ºF.
Past Results
Course Map
See the race route map for the San Diego Beach & Bay Half Marathon here.
Starting Time
see race website
Course Time Limit
3 1/2 hours
Fees
$80 and up for the half marathon
$40 and up for the 5K
$45 and up for the 10K
Registration
To reserve your spot in the 2024 running of the San Diego Beach & Bay Half Marathon, 5K or 10K race, register online at the official race website below.
Official Race Website
sandiegobeachandbayhalfmarathon.com
Comments
Ever run in the San Diego Beach & Bay Half Marathon? Share your impressions here, as well as anything you learned about the race that you think other runners/walkers should know.