Sunday, September 23, 2018 • Truckee, CA • Course Map

Challenging climbs along scenic mountain trails as well as long stretches along lakeside roads just north of Lake Tahoe in Northern California await runners at this race, which marks its third annual running in 2018.
This intimate-sized race, which saw just shy of 200 runners cross the finish line last year (including 156 in the half marathon and 42 in the full marathon), takes runners on an out-and-back route that starts and finishes in historic downtown Truckee, a gorgeous mountain resort town that played a key role in one of U.S. history's most notorious episodes.
Historic 'Party.' The episode, of course, is the story of the Donner Party — the party of settlers from Illinois who became snowbound in these mountains on their trip across the country in 1846. Delayed by a series of mistakes and stranded in the winter snows, they ran out of food and were forced to turn to measures better told here.
So you'll be running through one of America's most historic places when you run here, starting from the intersection of Bridge and Jibboom Streets, near Trout Creek and just north of the Truckee River.
From there, you'll make your way west toward Donner Memorial State Park and Donner Lake, the place where the dispirited Donner Party was forced to return when they couldn't pass through the nearby mountains.
Trails and roads. You'll climb along trails through these hills and also run paved roads — at about the mile 2 marker, you'll run some single-track trails that run across a plank bridge over a creek, which means you'll need to run single file over the bridge.
After you've made it back onto the roads, you'll begin making your way nearly all the way around Donner Lake, a stretch that features some of the course's most stunning views.
Once you make your way to the intersection of Donner Pass Road and Northwoods Boulevard, that's where the most challenging stretch of the race begins. Here, the course almost immediately begins heading sharply uphill, rising some 300 feet between miles 11 and 12.
Then it's back downhill again the final mile or so as you make your way back into Truckee, for the race finish on the Trout Creek Trail.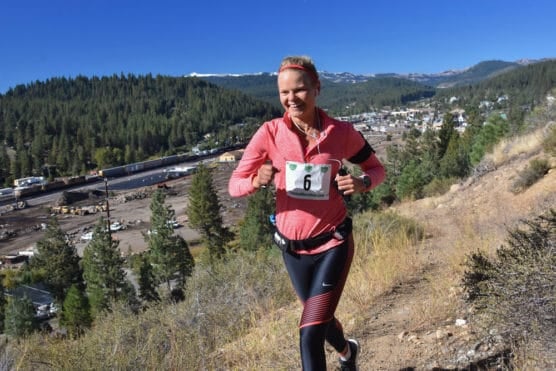 All photos Harry Lefrak/Lefrak Photography
Race Weather & Climate
Located along Interstate 80 near the California-Nevada state line, just north of Lake Tahoe, Truckee typically sees very snowy winters and cool-to-warm summers, which also bring plentiful rain and thunderstorms.
Temperatures during September average between the mid-30s to the low 70s, while precipitation is low compared to the rest of the year, averaging just over an inch for the month.
On race day (Sept. 23), the average low is 33ºF and the average high is 70ºF.
Past Results
Course Map
See the race route map for the Truckee Half Marathon here.
Starting Time
8:00 AM
Fees
$70 for the half marathon, if registered by December 31, 2017
$80 between January 1 – March 31, 2018
$85 between April 1 – September 15
$95 after Sept. 15
Registration
To reserve your spot in the 2018 running of California's Truckee Marathon or Half Marathon race, register online at RunSignUp.com here.

Official Race Website
Facebook Conversations
Ever run in the Truckee Half Marathon? Share your impressions here, as well as anything you learned about the race that you think other runners/walkers should know.