Sunday, September 24, 2023 • Keene, NH • Course Map
Whether you're new to running or a veteran of the sport, the Clarence DeMar Marathon & Half Marathon aims to spread the love of running. "Here, anyone who wants to run can run," write organizers.
The race was established in 1978. It honors the legacy of Keene resident and seven-time Boston Marathon champion and Olympic medalist Clarence DeMar. Among current marathoners, the Clarence DeMar Marathon is a popular choice for those seeking a Boston qualifying time. (In 2022, 30% of finishers achieved their BQ, said organizers.)
When he wasn't running or competing, DeMar taught engineering at Keene Normal School (now Keene State College), where he also coached cross-country. The team trained on a cinder track near the Appian Way finish line for the marathon and half marathon.
The half marathon is run along a point-to-point course beginning at the Surry Mountain Lake in Surry and ending at Keene State College. Shuttles will be available from the college's Spaulding parking lot from 6:30-7:00 am on race day to transport half marathoners to the start of the course.
From the starting line, the course winds south through Keene. While the race takes place predominantly on paved roads, several miles mid-race are run along a local bike path. Though the course is mostly flat, previous racers warn of the cemetery hill, which occurs around mile 5 of the half.
300+ volunteers provide ample course support and encouragement throughout the half marathon. Spectators gather at six cheering stations throughout the course to amp up runners. Water and Gatorade stops, helmed by volunteers, are available approximately every mile, and porta potties are stationed every 5 to 6 miles.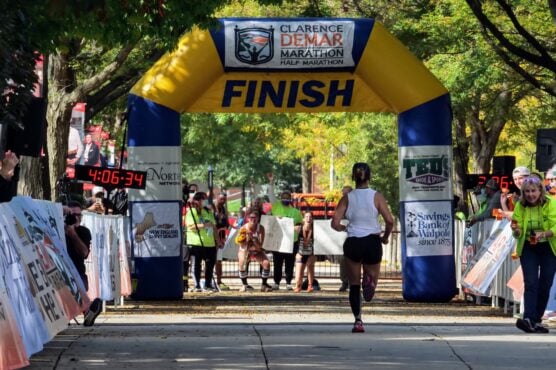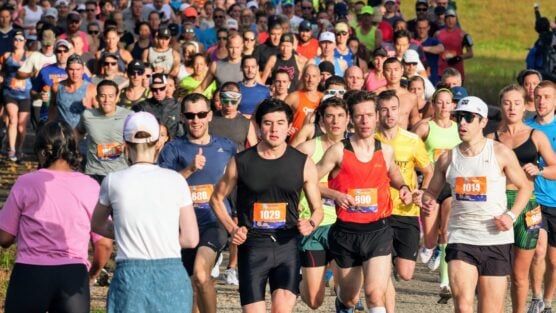 Photos courtesy of the Clarence DeMar Marathon
Take Note
Since the full marathon has a strict 7 ½ hour time limit, walkers are strongly discouraged, unless they can maintain an average pace of 17 minutes per mile.
Race Weather & Climate
While a little humid, late summer weather in Keene tends to be cool, with average temperatures ranging from 44°F to 65°F. As the season changes toward fall, runners will also get to experience the beautiful fiery colors of early foliage season in New Hampshire.
Past Results
Course Map
See the race route map here.
Starting Time
7:00 AM for the Marathon
8:00 AM for the Half Marathon
Fees
$110 for the Marathon
$80 for the Half Marathon
Registration
To secure your spot in the 2023 running of the Clarence DeMar Marathon & Half Marathon, register here at RunReg.com.
Official Race Website
Comments
Ever run in the Clarence DeMar Marathon & Half Marathon? Share your impressions here, or post your review in the Comments below.