Saturday, September 16, 2023 • Buena Vista, CO • Course Map
This series of running events — which include the race's signature half marathon as well as a 10K, 5K and a one-mile "fun run" — are held in the upper Arkansas River valley town of Buena Vista, near Colorado's Collegiate Peaks mountains, and make their 38th annual running this year.
Buses pick up participants in the town's central park for transport to the starting line in nearby Cottonwood Lake to the west of town, for a half marathon that takes place on mostly dirt roads as the course makes its way into the town.
The half course also includes about four miles of paved surfaces and significant changes in elevation — from the starting point of the race, the half marathon course drops about 2,500 feet by the time runners arrive in Buena Vista.
Several hundred runners come out for all four races combined each year at this race, which often helps runners set personal best race times thanks to its mostly downhill course. Of the total number of finishers, the half marathon usually sees the largest number, with more than 200 finishers each year.
The race also takes place in a spectacularly scenic part of central Colorado known as the "Fourteeners Region," so called because it includes a number of mountains that exceed 14,000 feet in elevation, including Mount Elbert, Mount Harvard and Castle Peak.
The towns along the valley, like Buena Vista, Leadville and Salida, also offer plenty of things to do after the race, from camping, hiking and river rafting down the Arkansas River to seasonal art and music festivals.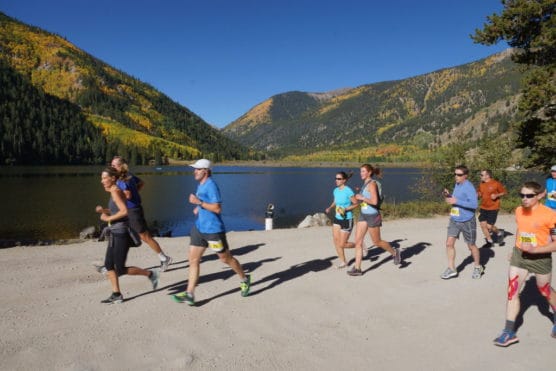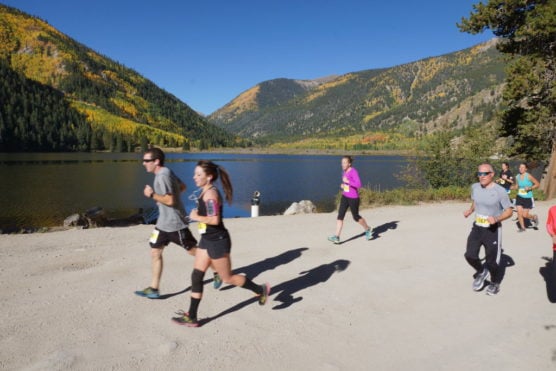 All photos courtesy Autumn Color Run
Race Weather & Climate
Nestled along the banks of the Arkansas River in central Colorado, about 120 miles southwest of Denver and roughly 90 miles west of Colorado Springs, Buena Vista typically sees some of its mildest weather of the year in September, which has brought record temperatures here as low as 17°F (in 1999) and as high as 90°F (in 1948).
On race day (Sept. 16), the average low is 38ºF and the average high is 71ºF.
Course Map
See the race route map for the Autumn Color Run Half Marathon here.
Starting Time
see race website
Fees
see race website
Registration
To reserve your spot in the 2023 running of Buena Vista's Autumn Color Run Half Marathon, 10K, 5K or one-mile fun run race, register online at the event website here.
Official Race Website
Comments
Ever run in the Autumn Color Run? Share your impressions here, or post your review in the Comments below.