Saturday, June 3, 2023 • Basalt, CO • Course Map
An annual fixture in this small western Colorado town for more than three decades, the Basalt Half Marathon takes runners on a beautifully scenic course that runs alongside the Frying Pan River in the valley between the mountains here in what is known as the "Heart of the Roaring Fork Valley," named for the Roaring Fork River, whose waters meet those of the Frying Pan River near the town center.
The morning of the race will see runners meeting at the Basalt Middle School on School Street for the bus transport to the race starting line, which lies east of the town at the Ruedi Dam, on the western end of the Ruedi Reservoir.
From there, runners follow a winding course along the Frying Pan River, running along the paved road that winds along with every bend in the river, with views of the wide-open skies and the trees and mountains that rise up in the distance along each side of the river.
The course for the race shows runners why this small town of just under 3,000 residents is known for its trout fishing, boating and other watersports, which locals and tourists flock to during the warm-weather months every year at both the reservoir and along the rivers and trout streams here.
The race finishes in downtown Basalt on Midland Avenue at Lions Park, where the town's annual River Days Festival will be underway. Race proceeds go to benefit the Basalt High School cross country running team.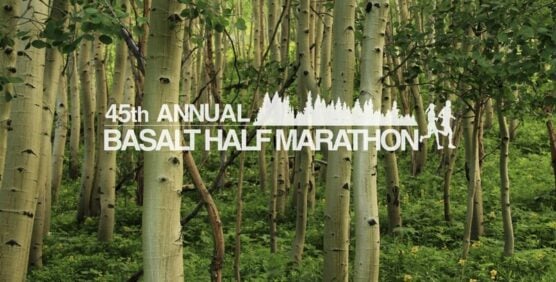 Race Weather & Climate
Located in northwestern Colorado, roughly 180 miles west of Denver, the town of Basalt typically experiences cool (and occasionally cold, especially in the mornings) to mild weather in June, when temperatures range between 35°F and 74°F and rainfall totals average just under an inch for the month.
June 3 average low temp: 43°F
June 3 average high temp: 70°F
Past Results
Course Map
See the race route map for the Basalt Half Marathon here.
Starting Time
7:45 AM
Fees
$75 for the half marathon, for pre-registered runners
$80 on the day of the race
Registration
To reserve your spot in the 2023 running of the Basalt Half Marathon, register online at Active.com here.

Official Race Website
Comments
Ever run in the Basalt Half Marathon? Share your impressions here, or post your review in the Comments below.
See these next: