Saturday, October 14, 2023 • Mancos, CO • Course Map

Set for its 6th annual running in the peak of fall here in this tiny town in southwestern Colorado that's known as the "Gateway to Mesa Verde" — it's just down the road from the entrance to Mesa Verde National Park — this half marathon unfolds along a combination of gravel roads, off-road trails and paved roads, with views of the mountains all around.
Small field. The race is definitely a smaller one — last year's half marathon field was limited to 99 runners, though the 5K is open to all who enter, with no limit. This makes the race more like a run with friends out in the wild, as you'll make your way through long stretches of the countryside just south of Mancos.
You'll start the race in town on West 1st Street, next to the Mancos Public Library. From there, the half marathon unfolds first on a loop through town and then heads south into more rural areas, taking you through some fairly big hills in the first half.
Trails and off-road stretches. Expect the course to be about 60 percent gravel roads and about 40 percent paved roads, organizers say, and there's a roughly two-mile-long stretch of trails through both private land and BLM (U.S. Bureau of Land Management) owned land, between mile markers 3 and 5.
From the starting line elevation of just over 7,000 feet above sea level, you'll climb to nearly 7,600 feet by the time you reach the mile 4 marker. After that, the course follows a long, gradual descent for miles 5 through 9, followed by another gradual uphill over the course of the last few miles.
Stunning views. Thanks to Mancos's location between both Mesa Verde National Park, the San Juan National Forest and the Canyon of the Ancients National Monument, where you can see artifacts and homes left behind by the ancient Pueblo people who lived here more than 1,000 years ago, you'll get to take in some truly spectacular views.
There's wide-open range land, the mountains in all directions and the Mancos River, which you'll run alongside in the last few miles of the race on your way back into town.
When you're here, you won't be far from the famed "Four Corners" — the place where the borders of Colorado, Utah, New Mexico and Arizona meet at a single point. You can even go and stand on the spot itself, as there's a monument there to commemorate it.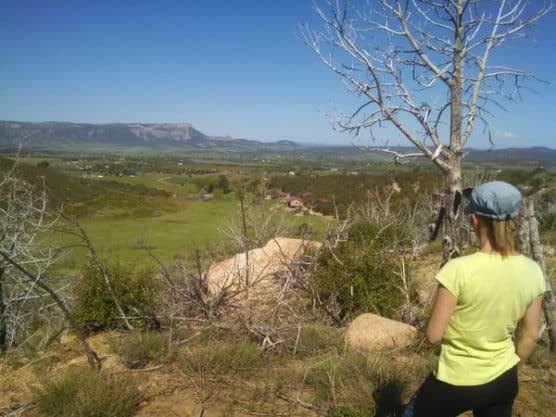 All photos courtesy Mancos Cowboy Half Marathon
Race Weather & Climate
Located along Highway 160 in Colorado's southwestern corner, just miles from Mesa Verde National Park and roughly 240 miles north of Albuquerque, N.M., Mancos typically sees some of its wettest weather of the year in October, although "wettest" is relative, with about 1.1 inches of rain on average for the month. Snow is not impossible, especially later in the month.
On race day (Oct. 14), the average low is 35ºF and the average high is 59ºF.
Past Results
Course Map
See the race route map for the Mancos Cowboy Half Marathon here.
Starting Time
8:00 AM – half marathon
8:30 AM – 5K
Fees
$70 – $80 for the half marathon
$35 – $40 for the 5K
Registration
To reserve your spot in the 2023 running of the Mancos Cowboy Half Marathon, 5K or Fun Run, register online at RunSignUp.com here.

Official Race Website
Comments
Ever run in the Mancos Cowboy Half Marathon? Share your impressions here, as well as anything you learned about the race that you think other runners/walkers should know.