Saturday, December 2, 2023 • Orlando, FL • Course Map
Note: A virtual option is available for this event. Registration details are included below.
Featuring a course that takes runners through the downtown city streets of Orlando, just minutes from the nearby Walt Disney World amusement parks, the OUC Orlando Half Marathon & Track Shack Lake Eola 5K will celebrate its 43rd annual running by welcoming as many as 6,000 runners or more for this fast and mostly flat race.
The out-and-back course for the race starts and finishes at Orlando's Lake Eola Park and follows a loop course that take runners past past a number of local lakes and city parks.
Runners will be entertained by live bands playing music throughout the course, and will have a chance to enjoy plenty of refreshments and pick up their finishers' medals at the race's Finish Line Festival.
From the starting line at Lake Eola Park, runners make a clockwise loop around the heart of central Orlando, with stretches along Robinson Street, Magnolia Avenue, Hillcrest and Concord Streets, Livingston Street and again onto Robinson, before turning onto Crystal Lake Drive for a two-mile-long stretch that will bring the field south down to Bass Lake and Lake Lagrange.
After hitting the race's southernmost point along Lake Margaret Drive, runners begin making their way north again along Burnby Avenue, Michigan Street, Delaney Avenue and Palmer Street, before heading under the Holland Expressway along Mills Avenue to Lake Lawsona, where they'll hit the home stretch that brings them back to Lake Eola for the race finish.
Registration is limited to 4,500 for the half marathon and 2,000 for the 5K, so runners thinking of signing up are encouraged to do so early.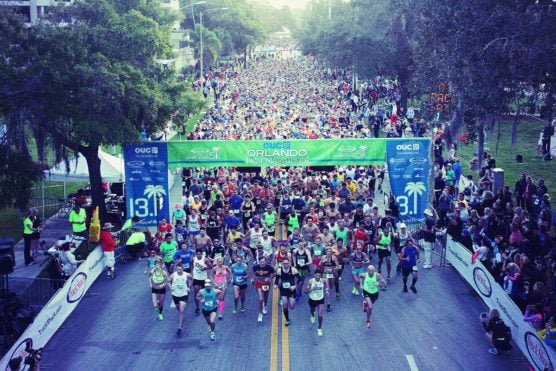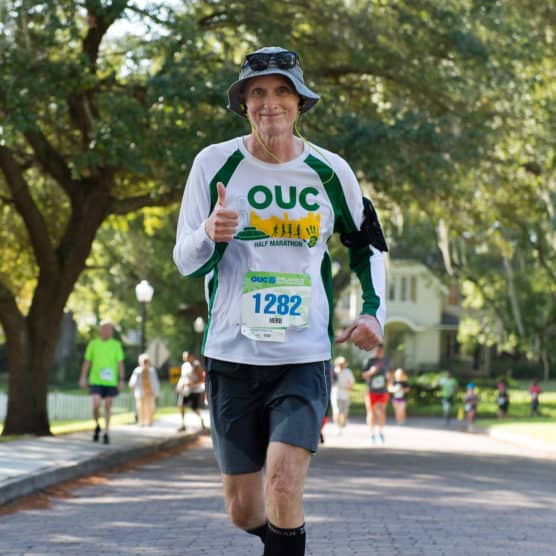 All photos courtesy OUC Orlando Half Marathon
Race Weather & Climate
Located amongst the lake country of central Florida, Orlando typically experiences mild to moderately warm temperatures in the early winter season, with lower precipitation than in the summer and early fall months. In December, temperatures average between 53°F and 73°F, while precipitation totals average around 2.31 inches for the month.
Dec. 2 average low temp: 54°F
Dec. 2 average high temp: 74°F
Past Results
Course Map
See the OUC Half Marathon course map here.
Starting Time
7:15 AM – half marathon
7:15 AM – 5K
Fees
$80 – $110 for the half marathon
$33 – $42 for the 5K
$58 for the virtual half marathon
Registration
To reserve your spot in the 2023 running of Orlando's OUC Half Marathon or Track Shack Lake Eola 5K race, register online at the race website here.
Official Race Website
Comments
Ever run in the OUC Half Marathon? Share your impressions here, or post your review in the Comments box below.