Saturday, March 5, 2022 • Albany, GA • Course Map

Surrounded by groves of pecan trees, farms and rural plantation-style homes, the city of Albany puts its ample Southern charm on display for the annual running of its marathon and half-marathon race, which makes its 15th annual running this year.
Officially titled the Albany Snickers Marathon & Half Marathon, the race is described by both organizers and last year's participants as fast and flat, with the start and finish lines at riverfront park areas along the city's stretch of the Flint River.
Run entirely on paved city streets, college campus avenues and residential neighborhood roads, the race starts at downtown Albany's Veteran's Park and takes runners past sights like its historic Sand Dunes area, thought to be the northernmost reach of the waters of the Gulf of Mexico thousands of years back.
Both the full- and half-marathon routes also include areas like the campuses of Albany State University and Darton College, and through a converted railroad depot known today as the Thronateeksa Heritage Museum.
Participants in last year's race confirmed that the course has little to no hills to speak of — just a few gentle, rolling hills — especially for the half-marathon and "fun run" portions of the race, which stick closer to Albany's downtown areas than the full, 26.2-mile marathon. Once you do get out into the neighborhoods, the scenery is impressive, complete with trees with hanging Spanish moss and beautifully styled homes.
The course time limit for both the half marathon and the full marathon is 7 hours. For runners in the full marathon, the USATF-certified course is a Boston Marathon qualifier. More than 1,000 runners, walkers, wheelchair and hand crank competitors crossed the finish line in recent years, including 670 finishers in the half marathon.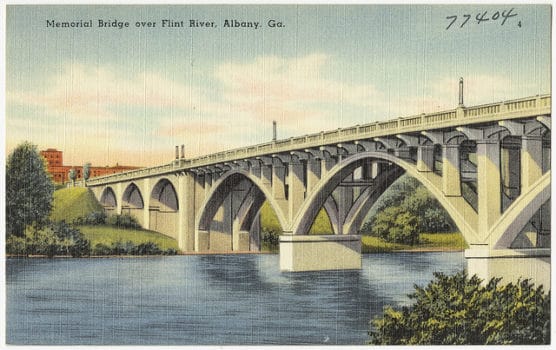 Postcard of Albany's Memorial Bridge, courtesy Boston Public Library/flickr
Race Weather & Climate
Weather conditions in this south Georgia town can be fairly warm in the early days of spring, as March temperatures average between the high 40s and the high 70s. Rainfall is definitely a possibility also this time of year, as March precipitation averages just under 4.8 inches in an area with moderate precipitation all year long.
On the day of the race (Mar. 5), the average low is 48°F and the average high is 67°F.
Past Results
Course Map
See the race route map for the Albany Half Marathon here.
Starting Time
6:45 AM – wheelchair, hand crank
7:00 AM – half marathon, full marathon
Fees
$60 – $85 for the half marathon
$75 – $105 for the full marathon
Registration
To reserve your spot in the 2022 running of Albany's Snickers Marathon or Half Marathon, register online at RunSignUp.com here.

Official Race Website
Comments
Ever run in the Albany Half Marathon? Share your impressions here, or post your review in the Comments below.