Sunday, October 24, 2021 • Athens, GA • Course Map
Note: A virtual option is available for this race, to be run anytime by October 24. Registration details are included below.
Set for its 12th annual running this fall, the "AthHalf" Half Marathon takes runners on a tour of the campus of the University of Georgia, the home of the Georgia Bulldogs football team, as well as around the streets of this city nestled in the hills of northeastern Georgia.
Organized to show off this archetypal college town's unique architecture, neighborhoods and the rolling green spaces of the university, in past years the race has started on Washington Street near City Hall.
Much of the course for the race unfolds through downtown Athens, much of the university campus and through Athens's famous Five Points area, where organizers say you're likely to see plenty of spectators out cheering you on as they enjoy their morning coffee.
The home stretch of the race is its real reward, especially for anyone in the field who's a football fan — which will likely be many of them — as the final mile features a lap around the field inside Sanford Stadium, before runners cross the finish line next door in the parking lot of the Tate Student Center.
In addition to Sunday's half marathon, the race also hosts a 5K on Saturday, which will start at 2:30 p.m.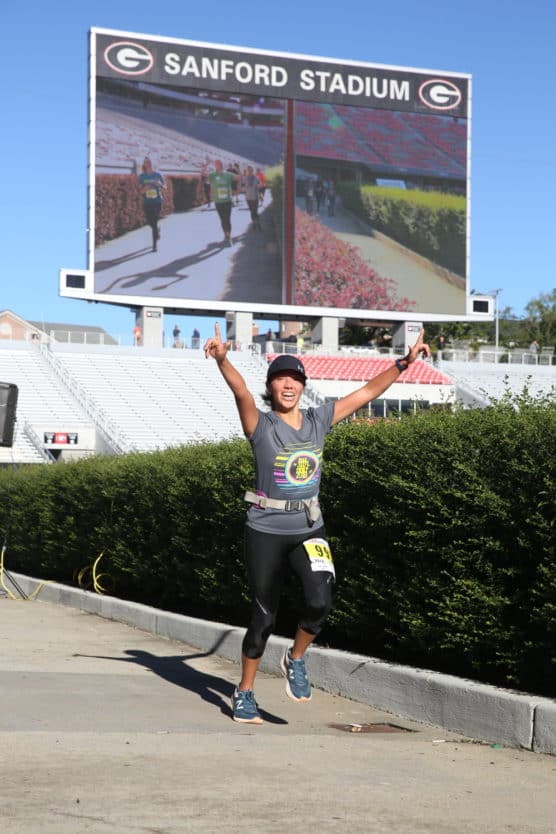 Race Weather & Climate
Located in the northeastern part of the state, just over 70 miles east of Atlanta, Athens typically sees mild to moderately warm weather in October, which has brought record temperatures here as low as 24°F (in 1952) and as high as 98°F (in 1954).
Oct. 24 average low temp: 48ºF
Oct. 24 average high temp: 71ºF
Course Map
See the race route map for the AthHalf Marathon here.
Starting Time
7:30 AM
Course Time Limit
4 hours
Fees
$60 – $90 for the half marathon
$30 for the 5K
$45 for the virtual half marathon
Registration
To reserve your spot in the 2021 running of the AthHalf Marathon, register online at RaceRoster.com here.
Official Race Website
Facebook Conversations
Ever run in the AthHalf Marathon? Share your impressions here, or post your review in the Comments below.