Saturday, October 26, 2024 • Cape May, NJ

Enjoy a seaside runcation without the summertime crowds during the Hallowed Half Marathon & Relay.
You can tackle the half marathon course or split the distance with a friend as part of a two-person relay team. The paved, mostly flat course takes runners through the streets of Cape May. You'll soak in seaside sights, ogle historical Victorian homes, and chase down your PR!
This race is perfect for those looking to celebrate Halloween in style, and costumes are encouraged during the race. (Expect a Halloween-themed post-race party, as well!)
If you're traveling from out of town, the LaMer Beachfront Resort is the host hotel for the race, as well as the site of the start and finish line. If you're staying elsewhere around Cape May, free on-street parking is available nearby, as well.
Want to take part in the race, but not feeling up to 13.1 miles? The running festival also plays host to an evening 5K at 7:30 PM on the Friday before the half marathon. Feeling wicked fast? Try both races on back-to-back days!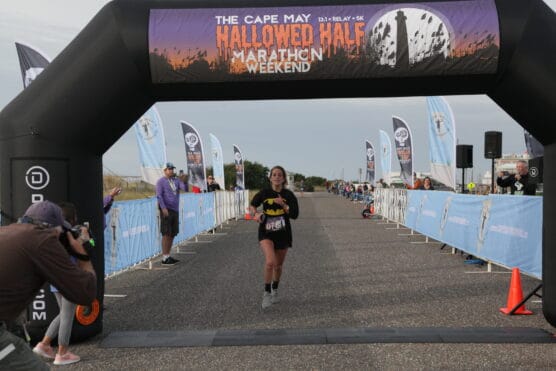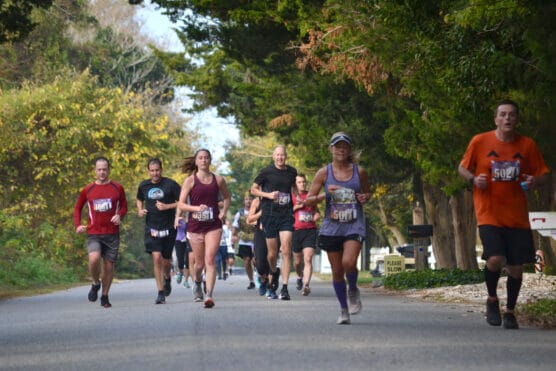 Photos by Sara Werner.
Take Note
There is a strict 3 hours and 30 minutes time limit for this race. Runners will need to pass the halfway mark by 1:45:00, or risk being picked up by the saggin' wagon!
Race Weather & Climate
Late October weather in Cape May is likely to be pleasant for running. The moderate temperatures and conditions often include crisp days and clear blue skies. Average daily temperatures tend to range from 47°F to 61°F.
Past Results
Starting Time
Fees
$90-$105 for the Half Marathon
$150-$170 for the 2-Person Relay
Registration
To secure your spot in the 2024 running of the Hallowed Half Marathon & Relay, register here at RunSignUp.com.

Official Race Website
Comments
Ever run in the Hallowed Half Marathon & Relay? Share your impressions here, or post your review in the Comments below.
See these next: