Saturday, October 19, 2024 • Tuxedo, NY • Course Map
Keep your eyes peeled during the Harriman Big Bear Squatch Half Marathon—you may find a Sasquatch lumbering through!
Whether or not Bigfoot deigns to make an appearance, you'll join a committed group of "Sassquad" trail runners as you tackle this technical and challenging race. The well-marked looped course begins at Powerhouse Park in Tuxedo and carries racers on popular hiking trails through Harriman State Park.
While half marathoners of all levels are encouraged to experience the joy of trail running, this is not an easy course! With 1,000 feet of elevation gain in the first four miles alone, half marathoners will cumulatively climb over 2,200 feet.
Runners have 4 hours to complete the half marathon, but they must reach the check point at mile 3.5 by 10:30 AM. Two well-stocked aid stations with water, snacks, and fruit are available around mile 4.7 and 9.5, respectively. However, runners are also expected to carry additional water and aid—see the notes below.
The race is also a fundraiser to support the restoration of the historic Ramapo-Dunderberg Trail, on which portions of the half marathon are run. If you are interested in getting involved with this wilderness work, members of the New York-New Jersey Trail Conference—which maintains and protects over 2,000 miles of trails in these states—will be at the race and happy to chat.
Take Note
Be safe while running! Participants are required to carry:
Charged cell phone
Water bottle or hydration pack
At least 200 extra calories
Whistle
Course Map, which runners will receive at check-in.
The following items are recommended, but not required:
GPX of course map on phone or device
Hiking poles
External battery pack for phone
Buff/hat/gloves
Wipes
Ziploc baggie to pack out trash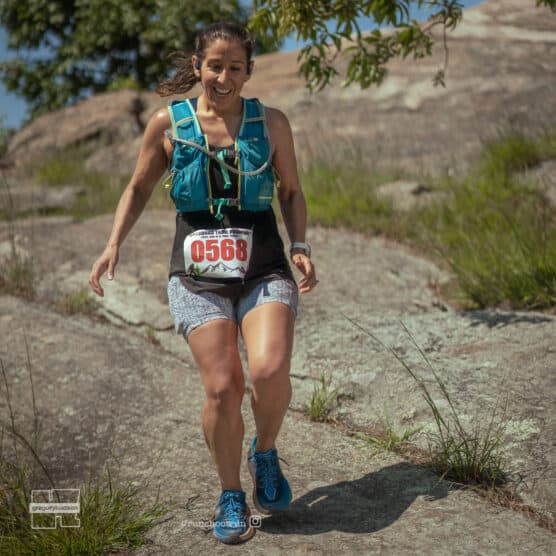 Photo courtesy of Sassquad Trail Running
Race Weather & Climate
Mid-October weather in Tuxedo is likely to feature plenty of colors as autumn foliage nears its peak. The weather can be variable—you might find anything from overcast, rainy days to breezy and pleasant running conditions. Average daily temperatures tend to range from 37°F to 57°F.
Course Map
See the course map here.
Starting Time
9:00 AM
Fees
$65 for the Half Marathon
Want to run with the whole family? For families registering 3 runners or more, a discount is available. Contact trailpartydirector@sassquadtrailrunning.com before you register to learn more.
Registration
To secure your spot in the 2024 running of the Harriman Big Bear Squatch Half Marathon, register here at UltraSignUp.com.
Official Race Website
Comments
Ever run in the Harriman Big Bear Squatch Half Marathon? Share your impressions here, or post your review in the Comments box below.