Saturday, September 9, 2023 • Flossmoor, IL • Course Map
Explore all six neighborhoods of this culturally rich Chicago suburb during the Hidden Gem Half Marathon.
This road race, which makes for a great tune-up for the Chicago Marathon in October, is as idyllic as the name implies.
Runners can expect an exciting tour throughout Flossmoor as they wind their way from the start at Infant Jesus of Prague School to the finish line in downtown Flossmoor.
The Chicago Area Runners Association (CARA) has recognized the Hidden Gem Half as among "Chicagoland's most well-organized and well-appreciated races" and named it a CARA Runners' Choice Circuit Race.
For local runners, Flossmoor is served by a METRA train station running to and from Chicago. For those driving in for the race, free parking is available at a number of locations near the start, including the Infant Jesus of Prague School where the half marathon begins.
Participants will also be supported before, during, and after the race:
 Runners are invited to join a free pasta dinner on Friday night during packet pick up at the Flossmoor Golf Club.
While on course, water, energy drinks, and snacks are available at eight aid stations.
At the finish line, celebrate your accomplishment with a finisher's medal, free beer, and food.
In it to win it? This race offers generous cash prizes up to $1,500 to the top 3 male and female finishers.
While this race is suitable for half marathon runners of all levels, there is a 3-hour course limit. Since runners have to maintain an approximately 13-minute mile pace, this event is not walker friendly.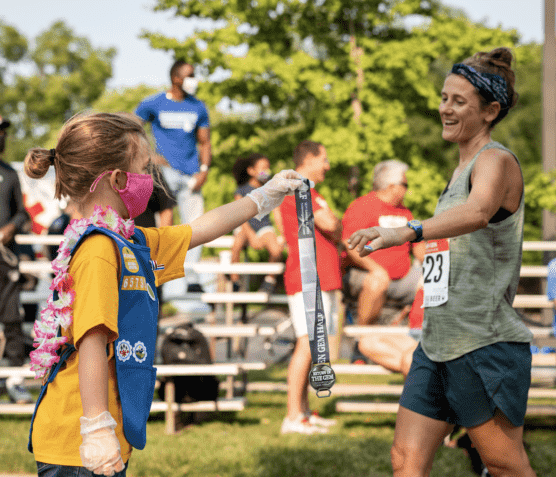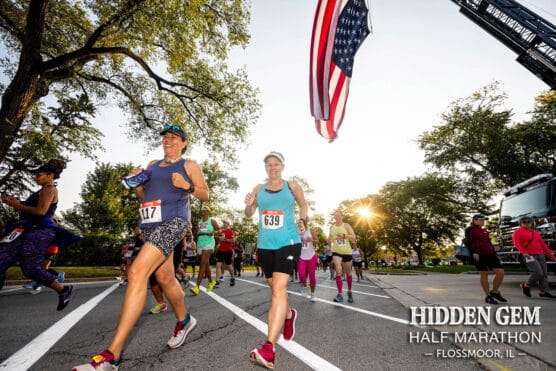 Photos courtesy of Hidden Gem Half Marathon
Race Weather & Climate
Expect good running conditions during September in Flossmoor. The weather is likely to be pleasant but overcast, with average temperatures ranging from 50°F to 69°F.
Past Results
Course Map
See the race route map here.
Starting Time
7:30 AM
Fees
$70-$90
Registration
To secure your spot in the 2023 running of the Hidden Gem Half Marathon, register here at TheDriven.net.
Official Race Website
Comments
Ever run in the Hidden Gem Half Marathon? Share your impressions here, or post your review in the Comments below.