Saturday, October 21, 2023 • Frankfort, KY • Course Map

Note: A virtual option is available for this race. Registration details are included below.
Set for its annual running when fall is in full swing here along the Kentucky River, the KY History Half Marathon offers a route that unfolds around the state capitol building and along the city's scenic Riverside Trail, with several historic places to see here in the state's capital city.
The race, which is designed as a benefit for the Kentucky Historical Society here in what is the nation's fifth-smallest state capitol, takes runners past some of this city's most famous historical sites, like the First Baptist Church and the Old Governor's Mansion early in the race.
Used from 1797 until 1914, the mansion – which runners will pass on High Street – was the home of 33 of the state's governors and later became the home of its lieutenant governors. As the race keeps on along Broadway and High Streets, you'll pass by Frankfort Union Station, which was built in 1908 and saw its final passenger train leave the station in 1971.
Later in the race, runners will make their way along the "Mile of Remembrance," a stretch through Frankfort Cemetery that offers the chance to see the gravesite of Daniel Boone and his wife – yes, that Daniel Boone, the historic pioneer – as well as the "State Mound," which stands in honor of all of Kentucky's sons and daughters who have lost their lives in defense of our country.
Water and SWORD hydration stations will be available at roughly every 1.5 miles along the route, and runners in the half marathon will have a course time limit of 3 hours, 30 minutes. All finishers in the half marathon will receive a finisher's medal.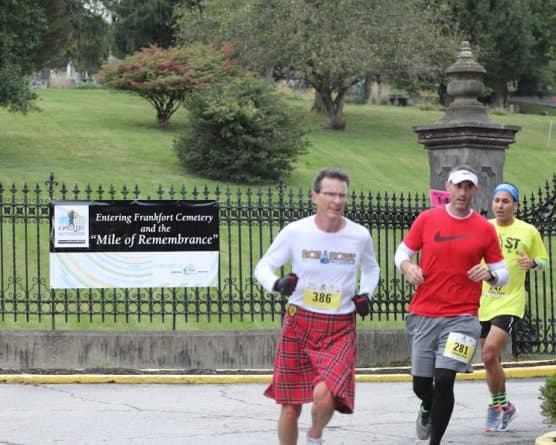 All photos courtesy KY History Half Marathon
Race Weather & Climate
Located about 25 miles northwest of Lexington and roughly 55 miles southeast of Louisville in central northern Kentucky, Frankfort typically sees mild (and sometimes cool, especially in the mornings) weather in October, where temperatures typically range from the low 40s to the low 70s.
On race day (Oct. 21), the average low is 42ºF and the average high is 69ºF.
Course Map
See the race route map for the KY History Half Marathon here.
Starting Time
8:00 AM – half marathon, 10K
8:15 AM – 5K
Fees
$65 – $85 for the half marathon
$40 – $50 for the 10K
$30 – $40 for the 5K
$40 for the virtual race
Registration
To reserve your spot in the fall 2023 running of Frankfort's KY History Half Marathon, 10K or 5K race, register online at RunSignUp.com here.

Official Race Website
Comments
Ever run in the KY History Half Marathon? Share your impressions here, or post your review in the Comments below.