I love trail running even more than road running. It's challenging, and the view at the top is that much more rewarding because of it. And the scenery – especially where I run – is absolutely gorgeous. Its aftermath, however, is often not. Not even a little bit.
I apologize for what you are about to see. . .
Remnants of a quick pedicure from mid-May, dirt ground under toenail corners of both feet, and stank from miles of glorious trail abuse all dressed up in one-year-old, two-dollah-fiddy-cent Old Navy flip flops. And let's not forget those tough patches of skin. Calluses, mmm mmm, tasty!
OK, OK, I know what you're thinking. . . What hot, single guy in his right mind wouldn't kill to massage these bad boys at night?!
Enter Ms. Le, pedicurist crème de la crème most conveniently located two blocks from my office, with some A-game tootsie relief and an earful. "You don't take care of your feet! Your feet don't like you, but they love me." Indeed, Ms. Le. Indeed they do. The scene was not pretty.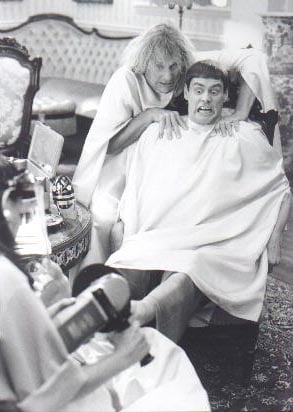 All right, maybe it wasn't quite this bad. But it was still pretty bad.
Pedicure Wednesday after work. . .check. Hittin' the gym and knockin' out six Yasso 800s before heading to the airport on Thursday afternoon. . .check, check. Next up, grooms' girl duties for Nate and Will.
While doing my part to bid the newly wedded duo marital bliss in Minneapolis over the weekend, the plan was to follow the plan – a twenty-mile run over the weekend and a four-mile run on Monday – before flying home Monday night. From day one in Minneapolis. . .umm, yeah. . .didn't happen.
Friday was to be a day spent away from training and exploring the nearby area with friends-slash-weekend roommates. Only, both of them wanted to run as soon as we all woke. OK, an easy three miles won't hurt.
Saturday, wedding prep began at 9:00 a.m. Pictures, the ceremony, cocktail reception, LOTS of SWEET crazy, uncoordinated, 'white girl' dance moves. By 11:00 p.m., I had been on my feet for about eight hours, at least three of which were spent in brand new heels.
NOTE to dudes: Brand new heels are not even a fraction as comfortable as brand new running shoes.
And last but certainly not least, of course, let's not forget the after party back at the hotel bar.
Sunday morning. Well, hmm. . .more like nearly Sunday afternoon. I finally felt awake enough to rise – but not shine – around 11:30 a.m. After a little lunch, I was recharged, refueled, and ready to tackle twenty miles of exploring nearby in eighty-three degrees and humidity. Or. . .not.
I didn't have the energy or desire to walk across the street let alone run twenty miles. All I wanted was a shower and for someone to tell me it was OK to commit what I consider a pretty substantial marathon training sin to skip a long run.
Between my current and previous personal trainers' slash exercise BFFs' validation, my own realization that I had been kicking my own behind for months, and a 7:00 p.m. dinner reservation with nine close friends, I skipped my long run. For the first time ever.
I made up for it a bit with a ten – rather than four – miles early Monday morning and finally did get a chance to explore:
And afterward put my tootsies up while catching up on a little reading on the patio of the Starbucks attached to the hotel:
The ten miles felt pretty good, as did my nine-and-a-half-mile trail run – including 1,800 feet of elevation gain – on Tuesday and my six-and-a-half-mile trek up Mt. Falcon – including a PR at the three-mile mark by nearly a minute – on Wednesday. Huh. Maybe I did need a break.
See, Ms. Le? I do take care of my feet. They like me too.
Guess sometimes mah lil' tootsies just need a time out. I gave them one, just in time for the real test – the Barr Trail Mountain Race. Curious how that went? Just chill. . . 'till the next episode. . .
Melissa Mincic, Ph.D., a long-time road and trail runner, conducts applied child development research and works to influence child development policy and practice at the University of Denver. Follow Melissa on Twitter at @nerdinrunshoes.