Sunday, September 6, 2020 • Boothbay Harbor, ME • Course Map
Come for a run along the Maine seashore at this beautiful harbor town just over an hour's drive from Portland at the Boothbay Region Harbor Fest Half Marathon, which is part of a weekend filled with festivities that also includes live music, an art show, food tastings and more, all while you take in some of the most beautiful scenery the rocky Maine shore has to offer.
The race, which saw just over 200 finishes in both races combined last year, follows an out-and-back course that starts and finishes near the heart of this town of just over 2,000 residents, which swells by at least that many in the summertime, its peak season.
Runners will start the half marathon along Emery Lane, a stone's throw from Penny Lake Preserve, and from there they'll head around the edges of town into the Lobster Cove Preserve.
Once you're inside Lobster Cove Preserve, a 48-acre nature preserve filled with wetlands, open field and forests, you'll follow the trails through the heart of the park until you meet up with Lobster Cove Road, which you'll jump onto and head south toward the seashore.
Note that the course is along the seashore but it isn't flat — there's plenty of hills and up-and-down stretches throughout the course, so you'll need to be ready for some elevation changes.
The next few miles take runners along the harbor, including stretches over a pair of bridges, both a bridge into the heart of town and then another bridge later in West Boothbay Harbor. You'll also pass by a few waterfront parks that organizers say will be perfect locations for spectators to catch a glimpse of the runners going by.
There are a couple more bridges later in the second half of the race — as well as a couple more islands that you'll run across — that will bring you past lakes and tidal rivers along the way, and then back to Emery Lane for the race finish.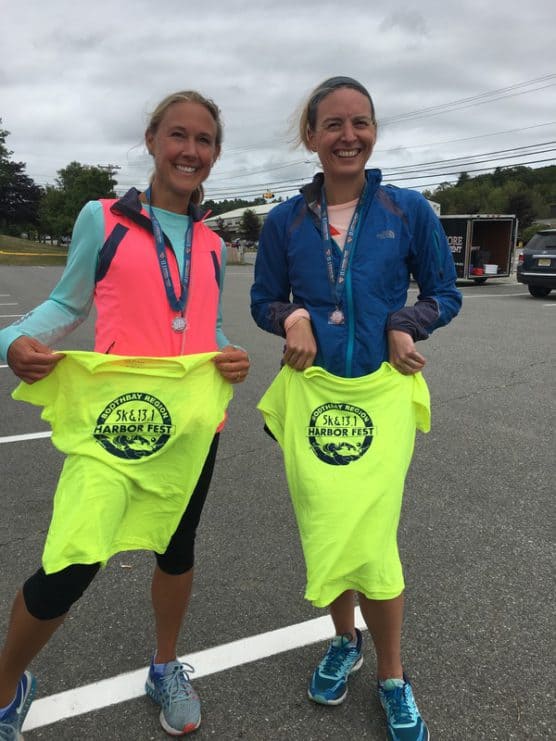 Photo courtesy Boothbay Region Harbor Fest
Race Weather & Climate
Nestled along the shoreline of southeastern Maine, about 60 miles from Portland, Boothbay Harbor typically sees mild to moderately warm weather in September, when temperatures average between the low 50s and the upper 60s.
On race day (Sept. 6), the average low is 54ºF and the average high is 73ºF.
Past Results
Course Map
See the race route map of the Boothbay Harbor Half Marathon here.
Starting Time
8:00 AM
Fees
$70 and up for the half marathon
$30 and up for the 5K
Registration
To reserve your spot in the 2020 running of the Boothbay Harbor Fest Half Marathon or 5K race, register online at RaceWire.com here.
Official Race Website
Facebook Conversations
Ever run in the Boothbay Harbor Half Marathon? Share your impressions here, as well as anything you learned about the race that you think other runners/walkers should know.