Saturday, May 4, 2024 • Wells, ME • Course Map
A gorgeous run along the rocky Maine shoreline, with stretches through pristine marshes and along white-sand beaches, as well as past a number of uniquely New England-style cottages along the beach. Welcome to the Maine Coast Half Marathon. That's what awaits in tiny Wells Harbor, overlooking the Webhannet River, where you'll run south along the oceanfront for the first half of the race.
From there, runners head south along the beaches for the first 4.5 miles with views of the Atlantic Ocean to the left and the inland marshes to the right. This section is virtually flat with only one tiny hill near mile 2.5.
Runners will cross a footbridge going over the estuary before heading inland, where the course continues the nature tour of marshes and wildlife and crosses the estuary several more times.
This section of the course is part of the Rachel Carson National Wildlife Refuge, which protects salt marshes and estuaries for migratory birds. Keep an eye out–you might see some of these birds before they fly south for the winter.
Though the second half of the race features some rolling hills, the elevation ranges from just above sea level to about 50 feet, so there are no major changes in elevation throughout the 13.1-mile course. The last mile is fully downhill as runners approaches the finish line at Wells Harbor Community Park.
Aid stations will be located at roughly every two miles along the half marathon route, stocked with water and Gatorade, and organizers add that some of the stations will also have jelly beans, orange slices, peanut-butter-filled pretzels, mint chocolate chip cookies, watermelon chunks and more as you run through them.
The half marathon is limited to the first 1,200 entrants and the marathon is limited to the first 1,000, so if you're thinking of running this race you're strongly encouraged to sign up early.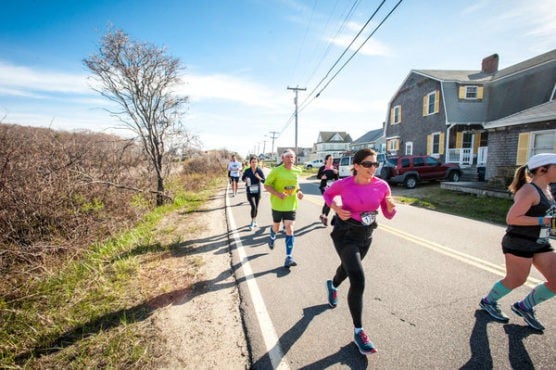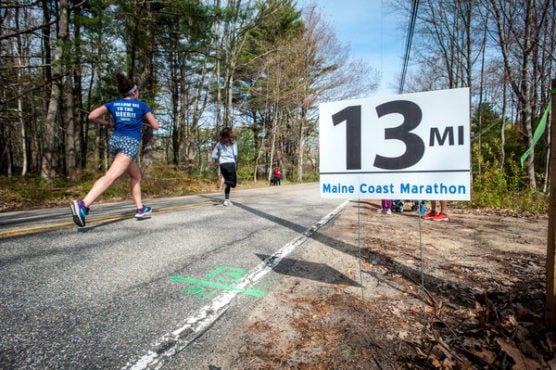 Photos courtesy Shipyard Maine Coast Marathon/Rugged Races
Race Weather & Climate
Nestled along the shoreline of Maine's Seacoast region, about 18 miles southwest of Portland and roughly 92 miles northeast of Boston, Massachusetts, Wells typically sees cool (and sometimes still cold) weather conditions in the late spring, as May brings temperatures between the low 40s and the high 60s.
May 4 average low temp: 45ºF
May 4 average high temp: 59ºF
Past Results
Maine Coast Half Marathon Course Map
See the race route map for the Maine Coast Half Marathon here.
Starting Time
7:00 AM – half marathon
7:30 AM – 5K
Course Time Limit
3 hours, 15 minutes
Fees
$74 and up – half marathon
$49 and up – 5K
Maine Coast Half Marathon Registration
To reserve your spot in the late spring 2024 running of the Maine Coast Half Marathon or 5K race, register online at EnMotive.com here.
Maine Coast Half Marathon Official Race Website
www.mainecoasthalfmarathon.com
See more races in Maine