Saturday, June 10, 2023 • Fulton, MD • Course Map
Set to run through the streets of this small Maryland town that lies just to the north of Baltimore, the Maryland Half Marathon also is run as a benefit for the Marlene and Stewart Greenebaum Cancer Center at the University of Maryland.
This out-and-back race — which in recent years moved to a course in the Maple Lawn community after being run in previous years in nearby Timonium — starts and finishes in the unincorporated community of Fulton, in Maryland's Howard County, which lies just down the road from Columbia.
From the starting line on Maple Lawn Boulevard near Fulton, runners head out on a route filled with rolling hills, and in the early miles takes them past the Johns Hopkins University Applied Physics Laboratory, which does research work for the Navy, NASA and the Department of Defense, among other government agencies.
Runners make their way along Maple Lawn Boulevard to Sanner Road, Guilford Road and Great Star Drive in the first few miles, and later along Simpson Road, Pindell School Road and Johns Hopkins Road before running a final loop around Old Columbia Road and President Street.
Once runners pass the half-way point, the rest of the course features mostly gentle rolling hills through suburban neighborhoods and tree-lined country roads through Maple Lawn, as the loop route brings runners back to the starting line area for the race finish.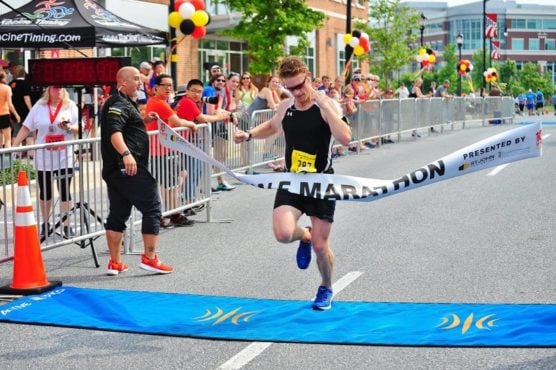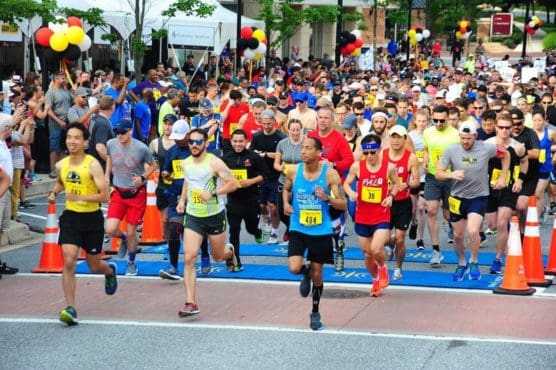 All photos courtesy Maryland Half Marathon
Race Weather & Climate
Located about 22 miles southwest of Baltimore, Fulton typically sees mild to moderately warm weather in June, which brings temperatures that average between the low 60s and the low 80s, while rainfall is spread evenly throughout the year.
Past Results
Course Map
See the race route map for the Maryland Half Marathon here.
Starting Time
8:00 AM – half marathon
8:30 AM – 5K
Course Time Limit
4 hours
Fees
$60 – $95 for the half marathon
$30 – $50 for the 5K
$20 for the kids fun run
Registration
To reserve your spot in the 2023 running of Fulton's Maryland Half Marathon or 5K race, register online at the event website here.
Official Race Website
Comments
Ever run in the Maryland Half Marathon? Share your impressions here, or post your review in the Comments below.