Saturday, October 14, 2023 • Manchester, MD • Course Map

Set for its 8th annual running among the challenging hills and beautifully scenic valleys of the River Valley Ranch summer camp retreat just outside Manchester, a small rural town that lies less than an hour's drive from Baltimore and Washington, D.C., the River Valley Run Trail Half Marathon offers gorgeous views and a course that organizers say will push every runner to her limit.
Run through the forests of northern Maryland. You'll be running the race entirely within the grounds of River Valley Ranch, a summer youth camp whose history dates back to the early 1950s, when it was a summer cowboy camp for boys.
Today the camp now hosts more than 20,000 people annually for a series of summer camps for youth as well as retreats and outdoor education seminars for adults throughout the year.
Tromp through rivers (if you like). From the starting line at Fort Roller inside the camp, the race heads west toward the outer edges of the ranch, where you'll have the opportunity to cross the river "wet or dry," organizers say.
The course will feature plenty of rocky terrain as well as dirt surfaces on the trails through the woods, four "significant" hills and occasional underbrush as you run through the forest.
There will also be a few river crossings during the race, organizers say, and there will be 700 spots open for the half marathon — so all who are interested in running it are encouraged to sign up as early as possible.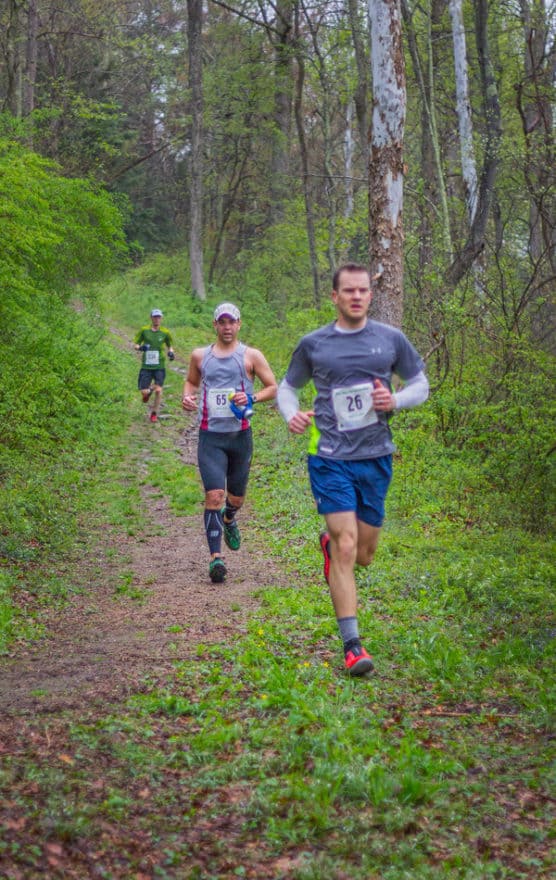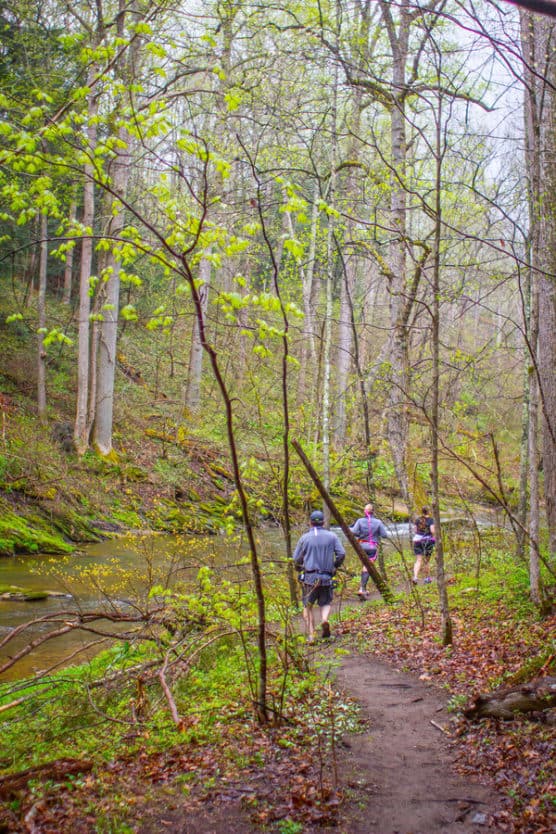 All photos courtesy River Valley Run
Race Weather & Climate
Located just south of the Maryland-Pennsylvania state line and roughly 40 miles north of Baltimore, Manchester typically sees cool to mild weather in October, as temperatures average between the low 40s and the low 60s.
On race day (October 14), the average low is 41ºF and the average high is 65ºF.
Past Results
Course Map
See the race route map for the River Valley Run Trail Half Marathon here.
Starting Time
8:00 AM – half marathon
9:00 AM – 10K
9:30 AM – 5K
Course Time Limit
4 hours
Fees
$80 – $100 for the half marathon
$50 – $65 for the 10K
$40 – $55 for the 5K
Registration
To reserve your spot in the 2023 running of Manchester's River Valley Run Trail Half Marathon, register online at RunSignUp.com here.

Official Race Website
Comments
Ever run in the River Valley Run Trail Half Marathon? Share your impressions here, as well as anything you learned about the race that you think other runners/walkers should know.