Sunday, November 10, 2024 • Newburyport, MA • Course Map
Use code HM10 for 10% off your registration.
Set for its 10th annual running this year in this historic seaport city along the Merrimack River, the Harborside Half unfolds along a route filled with salt marshes, wide-open fields and the lands of the Martin Burns Wildlife Management Area, which lie just south of the city.
Runners will start the race — which, as you can see in the photos below from last year's running, takes place in some pretty chilly and often wet weather — just south of Newburyport at the industrial park on Parker Street, near the entrance to the Clipper City Rail Trail.
The trail, which stretches just over a mile between a commuter rail station and the Merrimack River downtown, will make up the final mile of the race as you're running in to the finish line at Michael's Harborside, overlooking the river.
Long before you reach there, however, you'll follow the course as it winds its way southward through farm lands and wildlife areas, past the Great Meadow and over the river a couple of times.
While there are plentiful gentle rolling hills, the course elevation ranges from just a few feet above sea level to about 74 feet, so there's very little elevation change to speak of — "this is a relatively easy course," the organizers say on their website. "There are no major hills and most hills are simply rollers that come and go quite easily."
Some of the prettiest spots include the stretches around the Artichoke River Reservoir and the final, 1.3-mile stretch along the Clipper City Rail Trail, which unfolds through a combination of lush forests and Newburyport's downtown, all the way to the finish at the river.
Use code HM10 for 10% off your registration.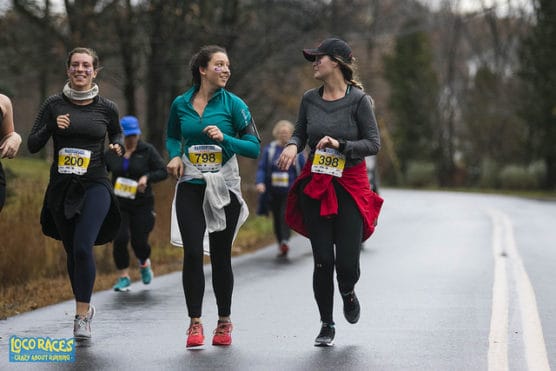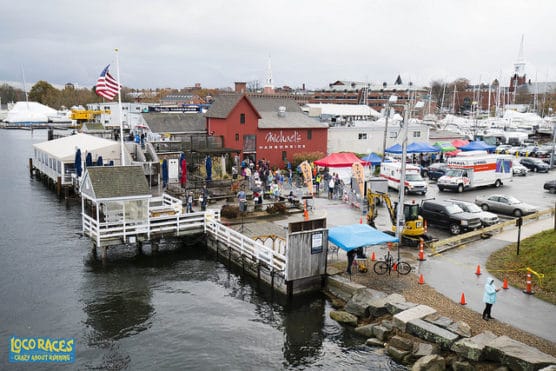 All photos of Harborside Half Marathon courtesy Loco Races
Race Weather & Climate
Nestled along the banks of the Merrimack River on the Massachusetts coast, about 35 miles northeast of Boston, Newburyport typically sees chilly temperatures and plenty of wet weather in November, which brings an average of 3 inches of snow here.
On race day (Nov. 10), the average low is 30ºF and the average high is 49ºF.
Past Results
Course Map
See the race route map for the Harborside Half Marathon here.
Starting Time
9:00 AM
Fees
$69 – $89 for the half marathon
$25 – $45 for the 5K
Registration
To reserve your spot in the 2024 running of Newburyport's Harborside Half Marathon or 5K race, register online at Enmotive.com here. Use code HM10 for 10% off your registration!
Official Race Website
Comments
Ever run in the Harborside Half Marathon? Share your impressions here, as well as anything you learned about the race that you think other runners/walkers should know.