Saturday, September 16, 2023 • Duluth, MN • Course Map
Note: A virtual option is available for this event. Registration details are included below.
Ready for a long, point-to-point run along Scenic Highway 61 that winds along the shoreline of Lake Superior, a race that runs almost the exact same route as June's Garry Bjorklund Half Marathon? That's what awaits at the North Shore Run, which features a 10K and a "Wheels Off" half marathon for runners as well as a full marathon for inline skaters.
Where does it start? Because it follows the same route (almost) as the 13.1-miler at the Grandma's Marathon, it starts at the halfway point of the full marathon, a few blocks north of Clearwater Grille overlooking Lake Superior.
From there, runners will follow the race as it winds along Congdon Boulevard, which is part of Scenic Highway 61 — itself part of the North Shore Scenic Drive, a 142-mile-long journey that begins in the unspoiled wilderness of Minnesota's Sawtooth Mountains, and winds all the way into Duluth through thousands of acres of forest along the lakeshore.
What will I see along the route? What is the terrain like? As the race continues southwest toward Duluth along Congdon, which later meets up with London Road, you'll head along that until you reach Harbor Drive, where you'll turn left and follow that to the finish in front of the William A. Irvin ship museum.
Before that, however, you'll get to run with the lakeshore over your shoulder for nearly the entire race, passing by parks, harbors and golf courses, along with homes and neighborhoods before you finally finish at the downtown waterfront in Duluth.
What's this about tunnels? One of the coolest features of the course is the chance to run through the freeway tunnels of Interstate 35 as you're heading into Duluth, which organizers say offers a unique experience, as they'll be completely closed to traffic during the race.
Where are the water stops? Organizers say there won't be water at the starting line, but it will be at three spots on the course: at the mile 1, mile 6 and mile 10 markers. If you need more water, they urge you to carry it with you.
How hilly is the course? It's got a few rolling hills, but nothing that's too challenging. The highest point lies at about 678 feet above sea level, while the lowest point (near the finish) is just above 602 feet.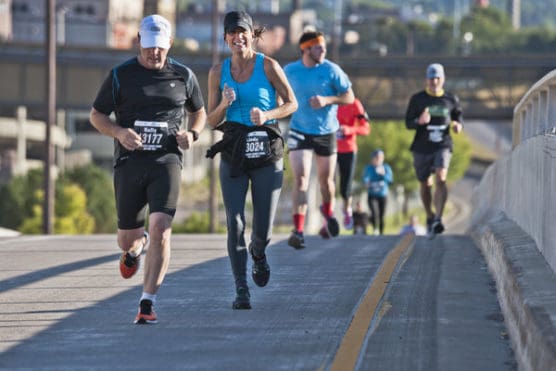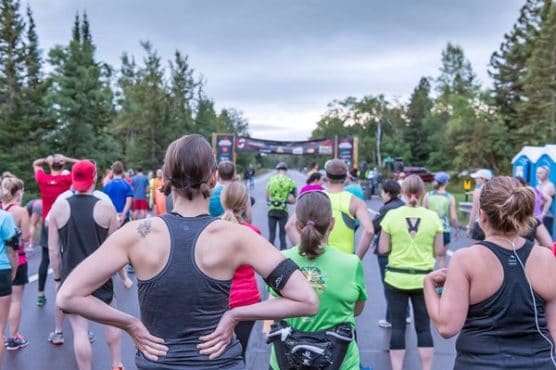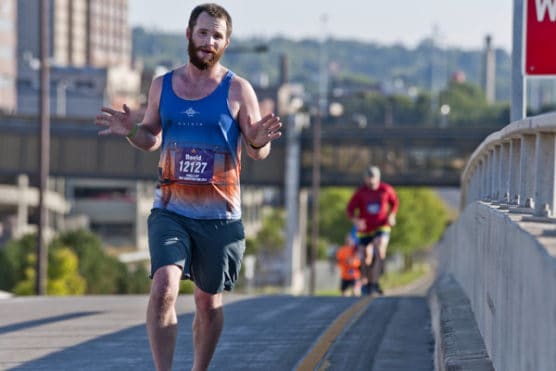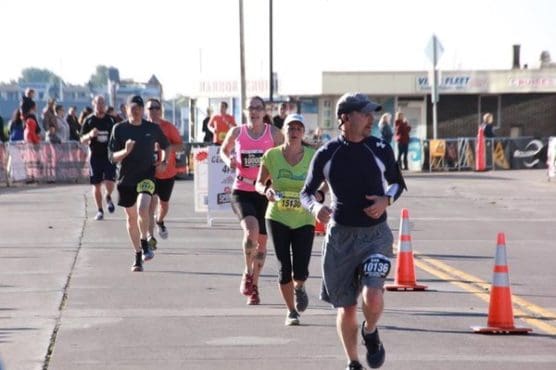 All photos courtesy North Shore Run
Race Weather & Climate
Nestled along the shoreline of Lake Superior, about 2 1/2 hours north of Minneapolis, Duluth typically sees its second-rainiest month of the year in September (with just over 3.7 inches of precipitation) and cool to mild temperatures.
Sept. 16 average low temp: 49ºF
Sept. 16 average high temp: 65ºF
Course Map
See the race route map for the Wheels Off Half Marathon here.
Starting Time
7:00 AM – half marathon
8:00 AM – 10K
Course Time Limit
3 hours, 15 minutes
Fees
$69 – $105 for the half marathon
$44 – $59 for the 10K
$49 – $69 for the virtual race
Registration
To reserve your spot in the 2023 running of Duluth's Wheels Off Half Marathon at the North Shore Run, register online at RunSignUp.com here.
Official Race Website
Comments
Ever run in the Wheels Off Half Marathon? Share your impressions here, as well as anything you learned about the race that you think other runners/walkers should know.