Sunday, October 9, 2022 • Omaha, NE • Course Map
Set for its sixth annual running just as fall is beginning here in Nebraska's capital city, the Hot Cider Hustle Half Marathon is part of a series of "Hot Cider"-themed races throughout the Midwest, where you'll receive a special finisher's mug filled with — as you've probably guessed! — hot apple cider at the finish line.
The course for the race actually lies a few miles west of downtown Omaha, and unfolds along the paved roads and trails along the shoreline of Zorinsky Lake, in the middle of the Edward Zorinsky Recreation Area, named for the former Omaha mayor and U.S. Senator from Nebraska.
From the starting line at at Skutt Catholic High School on 156th Street, you'll follow an out-and-back route that winds in a clockwise direction around the lake. The leaves on the trees will be changing into a beautiful range of reds, golds, yellows and oranges, and you'll run through parkland areas for most of the route.
The elevation change for the race is minimal, thanks to its location here in Omaha (of course!). The difference between the lowest point and the highest point along the course is just under 100 feet, so you can expect to enjoy plenty of flat, fast terrain.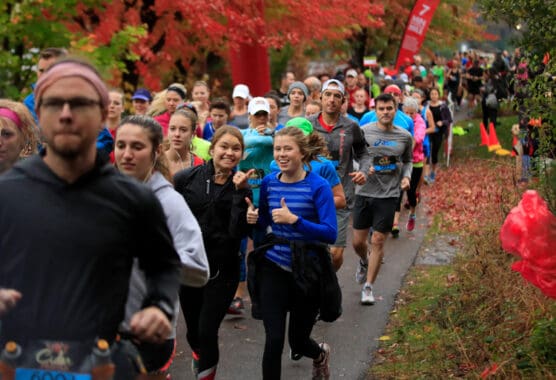 Race Weather & Climate
Located in eastern Nebraska along the border with Iowa, Omaha typically sees some of its mildest weather of the year in October, with average highs in the mid-60s and average lows in the low 40s, and just a few days of precipitation during the month.
On race day (Oct. 9), the average low is 47ºF and the average high is 66ºF.
Past Results
Course Map
See the race route map for the Hot Cider Hustle Half Marathon here.
Starting Time
7:30 AM – half marathon
8:00 AM – 5K
Course Time Limit
Half marathon – 3 hours, 30 minutes
5K – 1 hour, 20 minutes
Fees
$59.99 and up for the half marathon
$34.99 and up for the 5K
Registration
To reserve your spot in the fall 2021 running of Omaha's Hot Cider Hustle Half Marathon or 5K run/walk, click/tap this button:
Register online at RunSignup
Official Race Website
nebraskaruns.com/hotciderhustle
Comments
Ever run in the Hot Cider Hustle Half Marathon? Share your impressions here, as well as anything you learned about the race that you think other runners/walkers should know.