Saturday, April 1, 2017 • Boulder City, NV • Course Map

Set for its 7th annual running, this race offers both runners and walkers the chance to get out and enjoy the open air with this route that takes runners from the Six Tunnels Recreation Area to Lake Mead, for a race that benefits Hope 4 Lives, a locally based nonprofit that helps combat breast cancer, AIDS and other diseases.
Runners (and walkers — the race is open to both) will trek their way across the historic railroad tunnel trail that winds between the starting line just south of Henderson all the way east to Lake Mead, which once served as the rail line for the Union Pacific Railroad between Las Vegas and Boulder City as well as Lake Mead, to ferry the materials that were used in the construction of the Hoover Dam.
Today, the former rail line is no more, and is used only by runners, walkers, joggers and cyclists, who get to enjoy alternating shade and sunlight as they run, walk or bike between the cities and Lake Mead.
Runners for the Rockin Rabbit Run will start the race at the area known as Boulder Beach, and then head onto the River Mountain Loop Trail. From there, you'll follow a long uphill climb, which will take you to the race's first turnaround point.
After that, you'll remain on the trail and run past Boulder Beach again, with a couple more turnaround points before you head into the "fast downhill finish" back at the beach.
Organizers plan to allow four hours for runners and walkers to complete the 13.1 miles of the half marathon, which means that all participants should be in good shape to cross the finish line within the allotted time.
The race also will provide shuttle bus transportation from several Las Vegas casinos — including the Wynn, Encore and Venetian hotels and casinos, as well as the Luxor and Mandalay Bay casinos — to the starting line.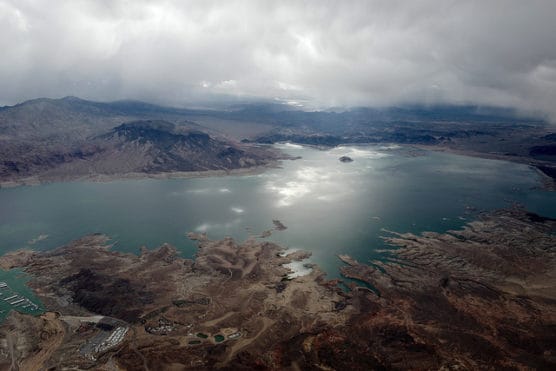 Aerial view of Lake Mead, Nevada. (Photo by Tom Hart/flickr)
Race Weather & Climate
Located in Nevada's southernmost corner, about 20 miles southeast of Las Vegas, Boulder City typically sees mild to moderately warm and usually very dry weather in April, a month that has seen record temperatures here as low as 31 degrees (in 1963) and as high as 97 degrees (in 1989).
On race day (April 1), the average low is 49ºF and the average high is 69ºF.
Course Map
See the race route map for the Rockin Rabbit Half Marathon here.
Starting Time
7:00 AM
Course Time Limit
4 hours
Fees
See race website
Registration
To reserve your spot in the 2017 running of Boulder City's Rockin Rabbit Half Marathon or 5K race, register online at Active.com here.

Official Race Website
Facebook Conversations
Ever run in the Rockin Rabbit Half Marathon? Share your impressions here, or post your review in the Comments below.