Sunday, October 29, 2023 • Portsmouth, NH • Course Map

Run, walk, or jog through the saltwater marshes, woodlands, and rugged coastline of New Hampshire's Seacoast at the Seacoast Half Marathon. 100% of proceeds after expenses goes to this year's local non-profit beneficiary Gather, an amazing organization dedicated to making the Greater Seacoast a hunger-free community.
Largely fast and flat, the Seacoast race offers participants a scenic tour of Portsmouth as well as the nearby towns of Rye, New Castle and the harbor. Just under 1,200 runners and walkers crossed the finish line at the race's 2016 running.
The loop course takes place entirely along paved city and town roads, and starts and finishes at the Portsmouth High School grounds.
Several gentle, rolling hills are found along the course but none would be considered challenging, as the course offers a total elevation change of about 61 feet, dropping to about sea level at several points throughout the race.
Runners (who start at 8:30 AM) and walkers (8:00 AM) are cautioned to remain on the lookout for traffic throughout the race, as the course will remain open to auto traffic (though volunteers will be placed throughout the course to direct traffic away from race participants).
Here's a note from the organizer on the race's beneficiary:
For 200 years, Gather has been serving Seacoast residents facing hunger. The agency was founded in 1816 by a small group of women committed to feeding the families of fishermen. Today, Gather is committed to ending local hunger through collaboration and leadership.
Gather serves those in our community experiencing hunger by providing nutritious food through innovative distribution programs and their Pantry Market. They offer nutrition education and recipes for healthy living and collaborate with community partners to address the root causes of hunger throughout the Seacoast in New Hampshire and Maine.
Gather's mission is to make the Greater Seacoast a hunger-free community by distributing nourishing food to people who do not have enough to eat; taking a leadership role in building an equitable and sustainable regional food system; and galvanizing public support for ending hunger.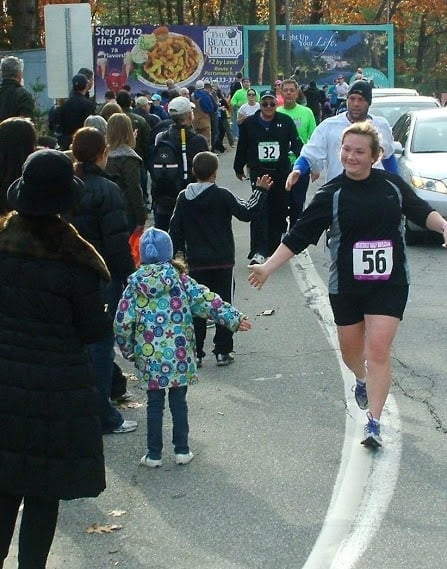 All photos courtesy Seacoast Half Marathon
Race Weather & Climate
Nestled along the coast of southeastern New Hampshire, just over 40 miles east of Manchester, Portsmouth typically sees cool weather in October with some cold mornings, when the city's average monthly temperatures range between 40°F and 65°F.
October 29 average low temp: 33ºF
October 29 average high temp: 51ºF
Seacoast Half Marathon Past Results
Seacoast Half Marathon

Course Map

See the race route map for the Seacoast Half Marathon here.
Starting Time
8:00 AM – walkers
8:30 AM – runners
Fees
$70 and up – half marathon
$35 and up – 5K, quarter marathon
Seacoast Half Marathon

Registration

To reserve your spot in the 2023 running of the Seacoast Half Marathon, register online at RunSignUp.com here.

Official Race Website