Saturday, September 23, 2023 • Jersey City, NJ • Course Map
Known among running enthusiasts as a great preparation & training run for the New York City Marathon held each November, the Newport-Liberty Waterfront Run offers a mostly flat and fast race through the streets of Jersey City with plentiful views of the Statue of Liberty, the Verrazano-Narrows Bridge, lower Manhattan and Ellis Island.
The race's starting and finish lines are at Newport-on-the-Waterfront Park, part of a 600-acre live-work-play community of high rises, restaurants, commercial buildings and nightspots on Jersey City's waterfront, just across the Hudson River from New York.
The 13.1-mile course for the race takes runners through city sights including Liberty State Park, Green Park, the Harborside Financial Center, and the Newport Town Square.
(MORE: 7 Scenic Photos of New Jersey's Newport Liberty Half Marathon)
Runners can expect one of the flattest and fastest — as well as one of the most scenic — races in the New York-New Jersey area at this event, as the course elevation varies between only about sea level and 20 feet above sea level at its highest point.
It's filled with long, flat stretches, especially in the long middle miles of the race, which unfold through Liberty State Park.
Through this stretch you'll be able to get a view — especially if the weather is clear — of historic Ellis Island, and even the Freedom Tower across the waters of the Hudson River.
(Note: The course may change for this year's race; check back here later for more updates or visit the official race website below.)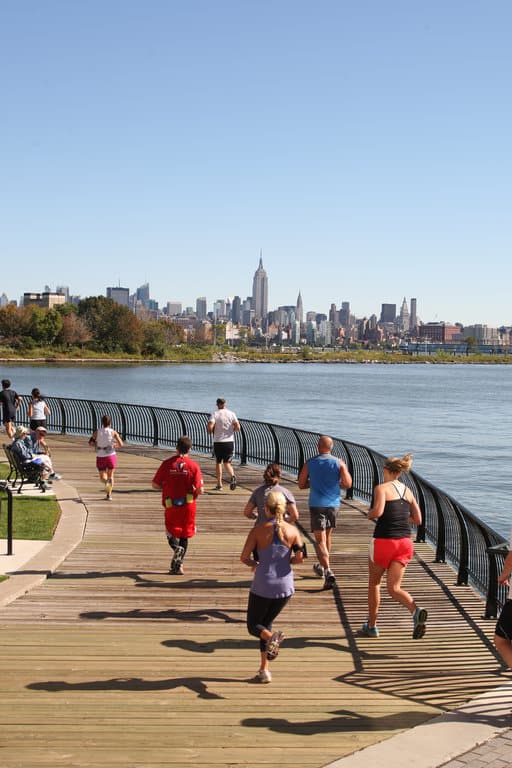 Race Weather & Climate
Located in northeastern New Jersey along the Hudson River waterfront, across the river from New York City, Jersey City typically sees some of its mildest weather of the year in September, which has brought record temperatures here as low as 38°F (in 1980) and as high as 99°F (in 1953).
On race day (Sept. 23), the average low is 58°F and the average high is 74°F.
Past Results
Course Map
See the race route map for the Newport Liberty Half Marathon here.
Starting Time
8:30 AM
Fees
See race website
Registration
To reserve your spot in the 2023 running of Jersey City's Newport Liberty Half Marathon race, visit the event website below.
Official Race Website
Comments
Ever run in the Newport Liberty Half Marathon? Share your impressions here, or post your review in the Comments below.