Saturday, June 15, 2024 • Ithaca, NY • Course Map

A land filled with forests, rail trails, lakeside stretches and plentiful waterfalls — that's what awaits runners here in Upstate New York at the Gorges Ithaca Half Marathon, which makes its 7th annual running this summer on a course organizers describe as "one of the fastest and most scenic half marathons you'll ever run. Period."
The point-to-point route for the race begins along Dubois Road in the nearby town of Ulysses, which if you've read your Homer you will recognize as the Latin name for Odysseus — the hero of the epic poem The Odyssey — who hails from the Greek island of Ithaca and it's there that he spent the entire story trying to return.
Runners will follow the road into the Cayuga Lake valley for the first mile or so before turning onto the recently completed Black Diamond Trail, an 8.5-mile-long rail trail that was once the home of the Black Diamond Express, a luxury passenger service on the Lehigh Valley Railroad that ran from New York to Buffalo until 1959.
The stone-and-dust path heads south along the lakeshore until you run into Ithaca, a city of just over 30,000 people here at the southern end of Cayuga Lake.
The scenery along the way changes from farmland to towering canopies of trees, as well as the sounds of water falling through the numerous ravines and waterfalls you'll see along the way.
You'll run almost entirely downhill for the first half of the race until you make it into Ithaca, where you'll spend the next several miles running along the trails alongside Cayuga Inlet and through some local city parks.
After that, you'll run along portions of the Cayuga Lake Waterfront Trail and later past the famed Ithaca Falls as you cross over the bridge at Fall Creek, and then cross the finish line right after you cross over Cascadilla Creek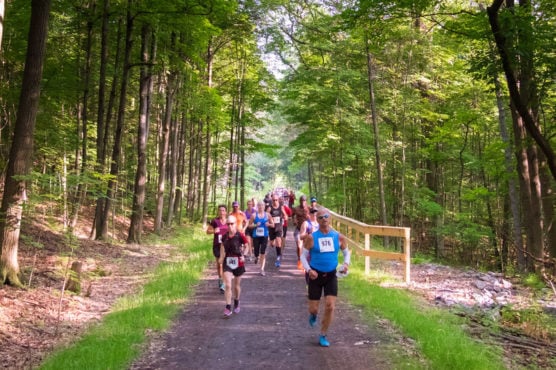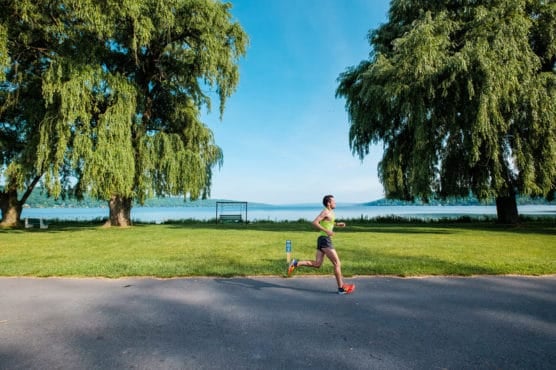 All photos courtesy Red Newt Racing
Race Weather & Climate
Nestled along the southern end of Cayuga Lake in New York's Finger Lakes region, roughly 230 miles northwest of New York City, Ithaca typically sees some of its warmest and wettest weather of the year in September, which brings temperatures that average between the low 50s and the mid-70s.
June 15 average low temp: 56ºF
June 15 average high temp: 74ºF
Past Results
Course Map
See the race route map for the Gorges Ithaca Half Marathon here.
Starting Time
7:00 AM
Fees
$90 – $120 for the half marathon
Registration
To reserve your spot in the 2024 running of the Gorges Ithaca Half Marathon, register online at RunSignUp.com here.

Official Race Website
Comments
Ever run in the Gorges Ithaca Half Marathon? Share your impressions here, as well as anything you learned about the race that you think other runners/walkers should know.