Sunday, October 22, 2023 • Babylon, NY • Course Map

Set for its 7th annual running along the fast, flat Montauk Highway here on the the south shore of Long Island, just over an hour and a half's drive from New York City, the Catholic Health Services' Suffolk County Marathon features a half marathon with a point-to-point route that features several miles of bridge running.
Runners — and walkers, as the race features a 18-minute mile time limit so both are welcome — will start the race in Babylon Village, a village of about 12,000 people that's probably best known for its beaches and for being right across the Great South Bay from Fire Island National Seashore.
The race begins along Railroad Avenue just steps from Babylon Village's Long Island Rail Road (which local runners can take to the start line), and from there runners make a loop around some side streets and nearby Argyle Park.
Once they complete that loop, they'll continue along Montauk Highway before reaching the Great South Bay Bridge. The course continues along the bridge, giving runners waterfront views and of hte islands to the south. They'll turn around at Captree State Park and cross the bridge again as a grand finale before the finish line at nearby Gardiner County Park.
For runners in the full marathon, the race is a Boston Marathon qualifier (for the 2022 Boston Marathon). Each of the races in the event are "almost entirely flat, with a minimum of turns," race organizers say.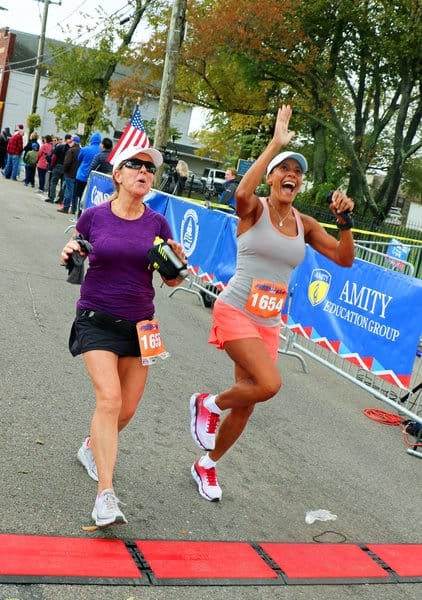 Photos courtesy Suffolk County Marathon
Race Weather & Climate
Located about 60 miles east of New York City, Patchogue typically sees even precipitation throughout the year, along with October temperatures that average between the mid-40s and the mid-60s.
Past Results
See the race route map for the Suffolk County Half Marathon here.
Starting Time
7:30 AM
Course Time Limit
6 hours
Fees
$99 – $140 for the half marathon
$124 – $175 for the full marathon
$74 – $95 for the 10K
$44 – $65 for the 5K
Registration
To reserve your spot in the 2022 running of Patchogue's Catholic Health Services Suffolk County Marathon or Half Marathon race, register online at RunSignUp.com here.
Official Race Website
Comments
Ever run in Patchogue's Suffolk County Half Marathon? Share your impressions here, or post your review in the Comments box below.