Sunday, October 27, 2019 • Patchogue, NY • Course Map

Set for its 5th annual running along the fast, flat Montauk Highway here on the the south shore of Long Island, just over an hour and a half's drive from New York City, the Catholic Health Services' Suffolk County Marathon features a half marathon with a long, out-and-back route that unfolds almost entirely on a single highway.
Runners — and walkers, as the race features a 6-hour time limit so both are welcome — will start the race in downtown Patchogue, a village of about 11,000 people that's probably best known for its beaches and for being right across the Great South Bay from Fire Island National Seashore.
The race begins along Montauk Highway near the intersection with Waverly Avenue, and from there runners head west and keep heading west, staying on the highway for the next 6 miles until they reach the turnaround point at Berard Boulevard.
Once they make the loop around the roads near Bourne Mansion, a historic Vanderbilt mansion that dates back to the turn of the 20th century, runners will then jump back onto Montauk Highway and follow it all the way back to Patchogue, where they'll cross the finish line just past River Avenue.
For runners in the full marathon, the race is a Boston Marathon qualifier (for the 2021 Boston Marathon). Each of the races in the event are "almost entirely flat, with a minimum of turns," race organizers say.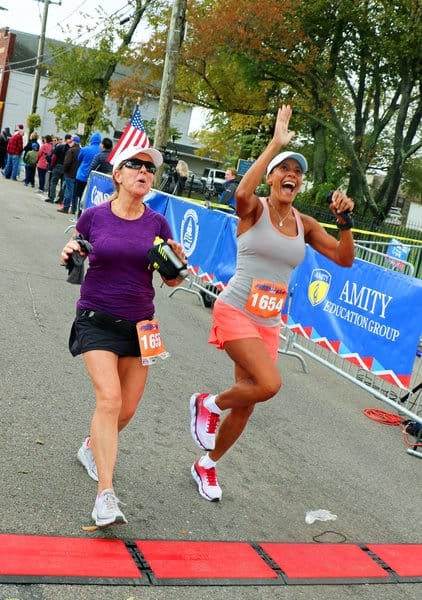 Photos courtesy Suffolk County Marathon
Race Weather & Climate
Located about 60 miles east of New York City, Patchogue typically sees even precipitation throughout the year, along with October temperatures that average between the mid-40s and the mid-60s.
Oct. 27 average low temp: 41ºF
Oct. 27 average high temp: 60ºF
Past Results
Course Map
See the race route map for the Suffolk County Half Marathon here.
Starting Time
8:00 AM
Course Time Limit
6 hours
Fees
$40 – $60 for the half marathon
$50 – $70 for the full marathon
$30 – $35 for the 10K
$20 – $25 for the 5K
Registration
To reserve your spot in the 2019 running of Patchogue's Catholic Health Services Suffolk County Marathon or Half Marathon race, register online at RunSignUp.com here.

Official Race Website
Comments
Ever run in Patchogue's Suffolk County Half Marathon? Share your impressions here, or post your review in the Comments box below.