Saturday, September 17, 2022 • Cherokee, NC • Course Map
Note: The 2022 race has been canceled.
Set to follow an out-and-back course that winds for much of the race along the banks of the Oconaluftee River, North Carolina's Cherokee Harvest Half Marathon & 5K takes runners along the occasionally hilly roads of this mountain community that lies just south of Great Smoky Mountains National Park.
The race begins at the stadium track located at the Acquoni Expo Center which used to be Cherokee High School. From there, runners head out on a journey throughout Cherokee as runners are able to experience bits and pieces of almost all of the communities in the city.
This race shouldn't be problematic for even the most novice runners as the route is mostly flat paved roads that allow for easy and comfortable running.
The only obstacle that runners will face is a hill that is marked by mile 6; otherwise, the race should be easily completed. For the most part, roads are lined with plenty of trees as well as residences.
Half marathon runners will finish back at the Acquoni Expo Center, where everyone is invited to attend a post race meal.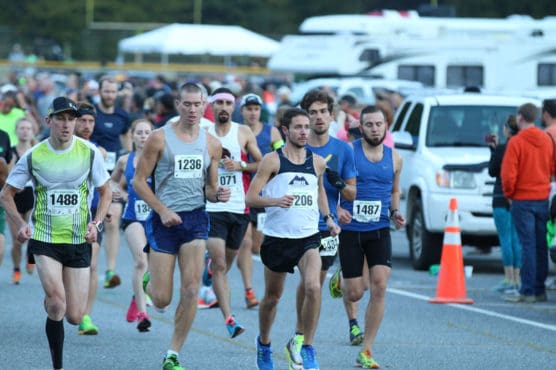 Photo courtesy Glory Hound Events
Race Weather & Climate
Located in western North Carolina, about 60 miles southwest of Asheville, Cherokee typically sees September temperatures that average between 50°F and 80°F, while rainfall totals average just over 4 inches, making September its second-driest month of the year.
Sept. 17 average low temp: 51ºF
Sept. 17 average high temp: 81ºF
Past Results
Course Map
See the race route map for the Cherokee Harvest Half Marathon and 5K here.
Starting Time
7:30 AM – half marathon
7:45 AM – 5K
Fees
See race website
Registration
To reserve your spot in the 2022 running of Cherokee's Harvest Half Marathon and 5K, register online at ImAthlete.com here.
Official Race Website
gloryhoundevents.com/event/cherokee-harvest-half-marathon/
Comments
Ever run in the Cherokee Harvest Half Marathon and 5K race? Share your impressions here, or post your review in the Comments below.