Saturday, May 18, 2024 • Todd, NC • Course Map

The serene, peaceful beauty of the western North Carolina Blue Ridge Mountains — the home of wintertime ski destinations like Sugar and Beech Mountains as well as year-round camping and hiking destinations like the nearby Pisgah and Cherokee National Forests — will be on display as the New River Half Marathon races make their 11th annual running along the banks of the river of the same name.
Runners taking part in the race will pass by small farms, country churches and Christmas tree farms along the way, all of which this part of western North Carolina is known for.
In past years the race was run in nearby Todd, a small mountain community here that has seen boom and bust periods over the past two centuries since it was first settled in the late 18th century, and most of its businesses and residents had packed up and moved away following the Great Depression and a devastating flood that hit the town in the early 1940s.
Since then, it has moved to Boone and later Fleetwood, which at roughly 3,000 feet above sea level provides a refreshing getaway for residents of nearby bigger cities, with cooler temperatures and a slower pace of living.
Runners start the out-and-back course for the half marathon just south of Todd in nearby Brownwood, where the start/finish line lies at the intersection of Cranberry Springs Road and Todd Railroad Grade Road.
From there, you'll follow roughly a counter-clockwise loop route, with long stretches alongside the South Fork of the New River, a quick-and-back stretch near Todd, and another long stretch along the New River in the second half of the race, in the shadow of nearby Stone Mountain.
Runners can expect mostly paved roads with a few gravel stretches, and the hilliest stretches occur in the race's first three miles.
Scenes from previous years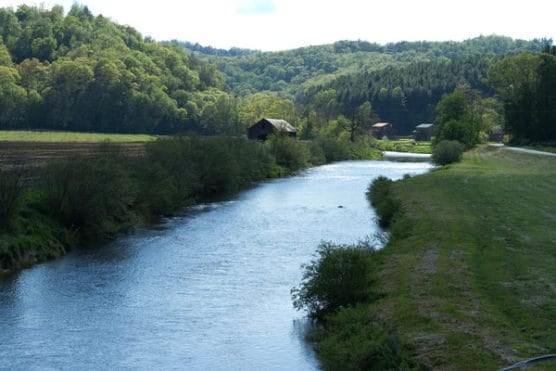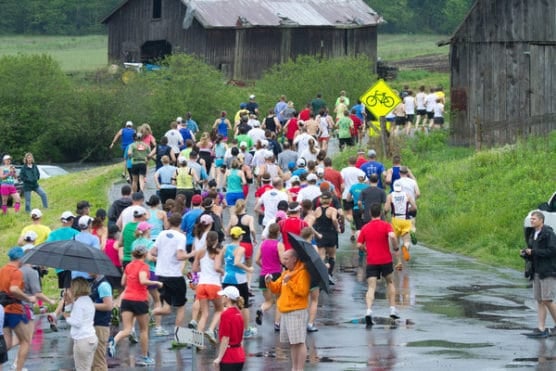 All photos courtesy New River Marathon
Race Weather & Climate
Nestled among the rolling foothills of the Blue Ridge Mountains in western North Carolina, just under 100 miles northeast of Asheville and about 120 miles northwest of Charlotte, Todd typically sees cool to mild (and sometimes cold, especially in the mornings) weather in the late spring, which brings temperatures that average between the low 40s and the low 70s.
New River Marathon Past Results
New River Marathon Course Map
See the race route map for the New River Half Marathon here.
Starting Time
7:30 AM – full marathon
7:45 AM – half marathon
8:15 AM – 5K
Course Time Limits
5 hours, 45 minutes – half marathon
6 hours – full marathon
New River Marathon Fees
$60 and up – half marathon
$80 and up – full marathon
$28 and up – 5K
Registration
To reserve your spot in the spring 2024 running of Todd's New River Marathon, Half Marathon or 5K race, register online at RunSignUp.com here.

New River Marathon Official Race Website