Saturday, June 1, 2019 • Raleigh, NC • Course Map
Part of a series of half marathons across the Southeast known as the Race 13.1 Series, the Raleigh Spring race runs along an out-and-back course that starts and finishes in the Raleigh neighborhood known as North Hills, at the shopping center at the intersection of Lassiter Mill Road and Currituck Drive.
The Greenway Trail System, in which most of the race is run on is part of a system of trails which is expected to grow to more than 100 miles of trails throughout this part of the state in the next few years.
The Crabtree Creek Greenway trail features paved, flat surfaces throughout, taking runners through a combination of neighborhoods and off-the-beaten-path parks and forests.
From the starting line runners will head northeast on Lassiter Mill Rd, followed by a left onto Pamilico Drive and a right on Northbrook Dr. Just before the first mile mark, the course takes a left and heads north on Six Forks Road followed by a left onto Shelly Rd for the next mile.
Runners will loop around Shelley Lake Park for miles 3 and 4 before heading back south along Millbrook road.
After winding their way south, the course crosses 70 and heads west along Crabtree Valley Ave for an out and back with the turnaround point around mile 9.  Halfway between mile 11 and 12, runners will make their way back onto Northbrook Dr, taking a right onto Pamilico Dr where the start/finish line is located.
The half marathon is open to walkers as well as runners, provided they can finish 13.1 miles in 3 hours, 3o minutes.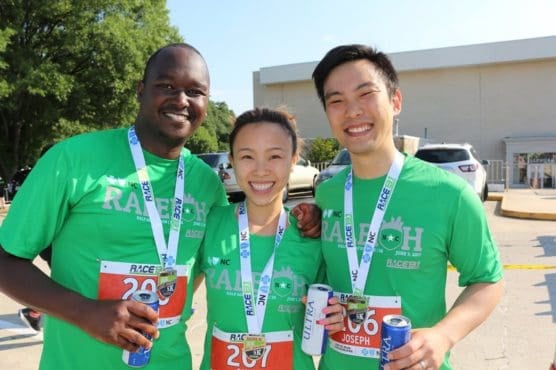 All photos courtesy Race 13.1 Raleigh Spring Half Marathon
Race Weather & Climate
Located among the hills of central North Carolina, about 25 miles southeast of Durham and roughly 165 miles northeast of Charlotte, Raleigh typically sees some of its wetter weather of the year in June, which has brought record temperatures here as low as 43°F (in 1972) and as high as 104°F (in 1954).
On the day of the race (June 1), the average low is 60°F and the average high is 83°F.
Past Results
Course Map
See the race route map for the Race 13.1 Raleigh Spring Half Marathon here.
Starting Time
7:15 AM
Fees
$79 – $89 for the half marathon
$43 for the 10K
$34 for the 5K
Registration
To reserve your spot in the late spring 2019 running of the Race 13.1 Raleigh Spring Half Marathon, 10K or 5K race, register online at Race131.com here.
Official Race Website
Comments
Ever run in the Raleigh Spring Half Marathon? Share your impressions here, or post your review in the Comments box below.