Saturday, December 2, 2023 • Raleigh, NC • Course Map
A beautifully scenic, peaceful run through the series of parks, creeks and residential areas that make up the Crabtree Creek Greenway — a nearly 16-mile-long biking, walking and running trail that winds through suburban Raleigh — the Raleigh Holiday Half Marathon returns to the same course used in 2020, with a start at the city's Gateway Plaza retail and office center.
Runners will start the out-and-back course for the race on Crabtree Boulevard, and from there run the first half-mile or so along the roadway before jumping onto the Crabtree Creek Greenway just after the intersection with Raleigh Boulevard.
After that, you'll remain on the trail for the rest of the race, meandering alongside the creek as it snakes its way southeast through neighborhoods, city parks and a few business areas.
You'll follow the trail all the way south to Anderson Point Park, where you'll circle the park along its trails before heading back onto the Crabtree Creek Greenway for your return, back along the route you just ran.
After that, you'll make your way all the way back northwest to the finish line, just before you reach Raleigh Boulevard again. Note that the race is open to a limit of 750 runners, so be sure to sign up early if you're interested in running what will no doubt be a friendly, smaller-sized event.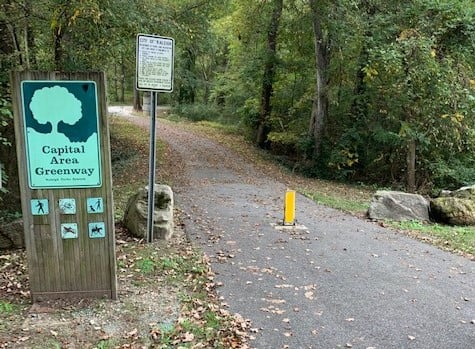 Photos courtesy Raleigh Holiday Half Marathon
Race Weather & Climate
Located in central eastern North Carolina, roughly 170 miles northeast of Charlotte and about 25 miles southeast of Durham, Raleigh typically sees cool to cold weather in December, with temperatures that range between the mid-50s and the upper 30s and lower 40s.
On race day (Dec. 2), the average low is 40ºF and the average high is 56ºF.
Course Map
See the race route map for the Raleigh Holiday Half Marathon here.
Starting Time
8:00 AM
Course Time Limit
3 hours, 30 minutes
Fees
$55 and up
Registration
To reserve your spot in the December running of the Raleigh Holiday Half Marathon, register online at the event website:
Register online here
Official Race Website
Comments
Ever run in Raleigh's Holiday Half Marathon? Share your impressions here, or post your review in the Comments below.