Ohio Half Marathons by City • By Date
Each half marathon that takes place in Ohio is listed below, and when you click the link you'll find info for each race — what the course is like and a map of the route, the elevation change, whether it's fast and flat or hilly and challenging, how to sign up, and more.
You'll also find contact info if you're having problems with your registration or need to contact the race directors.
Half Marathon & 5K • Sandusky, OH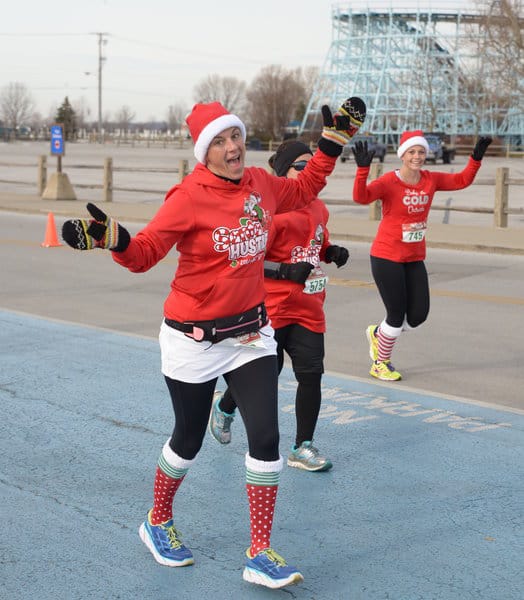 If you are a Christmas lover, enjoy overplayed holiday music, and devouring candy and cookies, then grab your favorite friends and family and register for the 2018 Santa Hustle® Cedar Point 5K and Half Marathon!
The 2018 Santa Hustle® swag is bound to make your jingle tingle even brighter with a Santa Hat, Santa Beard, Finisher Medal, and NEW! Performance Hoodie!
Save $5 with code HM5.
Akron
Akron Marathon, Half Marathon & Team Relay
Run to the Beach Half Marathon, 5K & Relays
Ashland
Tour de Ashland Half Marathon & Team Relays
Athens
Athens Marathon & Half Marathon
Belmont
The Barkcamp Race Trail Marathon, Half Marathon & 10K
Berea
River Run Half Marathon & Relay
Berlin
Amish Country Half Marathon & 5K
Bethel
Wild Cherry Loop Trail Half Marathon
Bowling Green
Soaring Eagle Runs Boy Scout Half Marathon & 5K
Brookville
Canton
Hall of Fame City Challenge Marathon, Half Marathon & 10K
Pro Football Hall of Fame Marathon & Half Marathon
Cincinnati
Cincinnati Half Marathon & 5K Run/Walk
Flying Pig Marathon, Half Marathon, 10K & 5K
Race 13.1 Cincinnati Half Marathon, 10K & 5K
Cleveland
Rite Aid Cleveland Marathon, Half Marathon & 10K
Columbia Station
Columbia Station Half Marathon & Inline Skate
Columbus
Capital City Half Marathon & 5K
Nationwide Better Health Columbus Marathon & Half Marathon
Spirit of Columbus Half Marathon & Relay
Concord Township
Lake Health Distance Classic Half Marathon & 5K
Cuyahoga Falls
Cuyahoga Heights
Towpath Half Marathon, 3-Mile & 5-Mile
Dayton
Dayton River Corridor Classic Half Marathon & 5K Run/Walk
United States Air Force Marathon, Half Marathon, 10K & 5K
Delaware
New Moon Half Marathon & Quarter Marathon
Dublin
Emerald City Half Marathon & Quarter Marathon
Last Chance for Boston Relay Marathon, Half Marathon, 10K & 5K
Eaton
Elida
Meals 'Til Monday 5K & Half Marathon
Elyria
Inland Trail Marathon, Half Marathon & 5K Run/Walk
Sandy Ridge Half Marathon & 10K
Findlay
Red, White & Blue 26.2 Marathon & Half Marathon
Gambier
Earth Day Challenge Half Marathon & 4-Mile
Granville
Coughlin Automotive Irish Festival Half Marathon, 5K & 5-Miler
Hartville
Stomp the Grapes Half Marathon & Relay
Hamilton
Hamilton NightGlow Marathon, Half Marathon & 10K
Hilliard
Columbus Half Marathon, 10K & 5K
Huber Heights
The Heights Half Marathon & 5K Fun Run
Huron
Huron Lighthouse Half Marathon & 5K
Lima
Hands 4 Haiti Half Marathon & 5K
Mansfield
Spherion Mid-Ohio 13er Half Marathon & 5K
Mason
Run & Ride Kings Island Half Marathon, 10K & 5K
Mentor
Northern Ohio Marathon & Half Marathon
Monclova Township
Churchill's Half Marathon & 5K
Morrow
New Albany
New Albany Walking Classic Half Marathon & 10K
New Philadelphia
Union Hospital "Run For Home" Half Marathon, Relay & Fun Run/Walk
Oxford
State to State Half Marathon & 5K
Peninsula
Leave No Trace Trail Marathon & Half Marathon
Run for Regis Marathon, Half Marathon, 50K, 22-Miler & 18-Miler
Towpath Marathon, Half Marathon & 10K
Winter Buckeye Trail Half Marathon, Marathon & 50K
Reynoldsburg
Mount Carmel Fitness Challenge Half Marathon & 5K
Sheffield
Park 2 Park Half Marathon & 5K
Strongsville
Cleveland Fall Classic Half Marathon & 5K
Cleveland Spring Classic Half Marathon, Relay & 5K
Toledo
Glass City Marathon, Half Marathon, Relay & 5K
Wadsworth
MatchStick Challenge Half Marathon, 10K & 5K
Waynesville
White Tail Trail Half Marathon
West Union
Wooster
Buehler's Heart & Sole Community Run/Walk Half Marathon & 10K
Xenia
ORRRC Marathon & Half Marathon
Youngstown
Green Cathedral Half Marathon, 5K & Fun Run
Mill Creek Distance Classic Half Marathon & 5K