Sunday, October 9, 2022 • Mentor, OH • Course Map
Set for its tenth annual running this fall, the Northern Ohio Half Marathon takes runners on an out-and-back, clockwise loop route through the neighborhoods and parks that lie between Headlands Beach State Park and Veterans Park here in this small city just outside Cleveland, which snagged a spot on Money magazine's "best places to live" list a few years back.
The race starts and finishes at the Mentor Senior Center in southern Mentor, taking runners on a clockwise route that first leads them north through nearby Veterans Memorial Park, where they'll turn off the paved roads and head onto portions of the Cardinal Loop Trail that winds through the park.
After leaving the park, the course continues briefly on the road before turning on the Lakefront Trail and leading runners around the Mentor Lagoons and Nature Preserve. Stay observant during this portion of the course — this area contains diverse wildlife and over 260 species of birds, including several endangered and threatened species.
The course continues weaving its way through the backroads of Mentor before turning onto Corduroy Road and Lakeshore Drive, where the middle portion of the course takes place. Once runners reach Veterans Memorial Park again, they'll run along the road bordering the east side of the park (and the nearby school) before weaving their way back to the finish line.
The Northern Ohio Marathon's 26.2-mile race (a double loop of the half marathon) is a Boston Marathon Qualifier, and runners will also be able to sign up for runner tracking that will post their progress during the race to their Facebook and Twitter feeds, as well as notifications to their mobile phones — see the official race website for more info.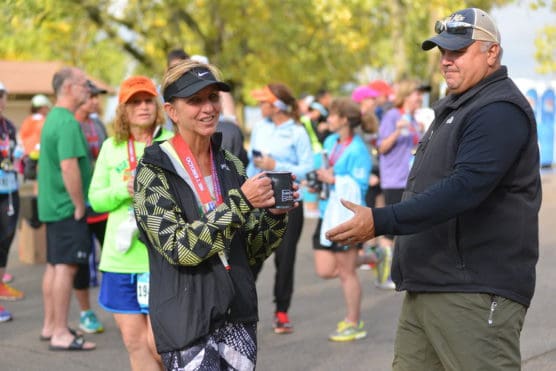 All photos courtesy Lake Health Running
Race Weather & Climate
Nestled along the southern shore of Lake Erie, just a half-hour's drive from nearby Cleveland, Mentor typically sees cool (and occasionally cold) to mild weather in October, which generally brings temperatures from the mid-40s to the mid-60s, and just over 3 1/4 inches of rainfall for the month.
On race day (Oct. 9), the average low is 47ºF and the average high is 54ºF.
Past Results
Course Map
See the race route map for the Northern Ohio Half Marathon here.
Starting Time
7:30 AM
Fees
$40 – $70 for the half marathon
$50 – $80 for the full marathon
$125 – $150 per team for the 5-person marathon relay
$30 for the virtual race
Registration
To reserve your spot in the fall 2022 running of Mentor's Northern Ohio Marathon, Half Marathon or Relay race, register online at Athlinks.com here.
Official Race Website
Comments
Ever run in the Northern Ohio Half Marathon? Share your impressions here, as well as anything you learned about the race that you think other runners/walkers should know.