Saturday, September 16, 2023 • Eugene, OR • Course Map
You'll run a fast, flat run alongside the Willamette River at this race just outside Eugene, between the small nearby towns of Coburg and Harrisburg, at the annual late summer running of the Pacific Northwest Marathon, which also features a half marathon and a 5K that bills itself as the "last chance for Boston," meaning it's your last day to qualify for the Boston Marathon.
That's because the race ends just four days before the deadline to qualify for the race, which for all intents and purposes means it's your last opportunity — so take advantage of it if you're running the full marathon!
For those running the half marathon, the course is equally as beautiful, scenic and fast as the 26.2-miler — you'll begin the race just north of Eugene and the small town of Coburg, along North Coburg Road, and it's a USATF (USA Track & Field) certified course.
Once you leave the starting line, you'll start heading north and follow the Williamette River as it flows downriver in the direction of Harrisburg, the small town where you'll cross the finish line.
In between the start and the finish, people living in the communities along the race course will be out to cheer you on, organizers note. This time of year also offers the perfect climate for running, they add:
"It's cool in the morning, [with a] slim chance of rain, and lower pollen count than in the spring… Of course, being at only 400 feet above sea level helps, too."
The half marathon starts at an elevation of about 380 feet above sea level and gradually descends throughout your 13.1 miles, dropping only to about 315 feet by the time you cross the finish line in Harrisburg, on 9th Street next to Harrisburg High School.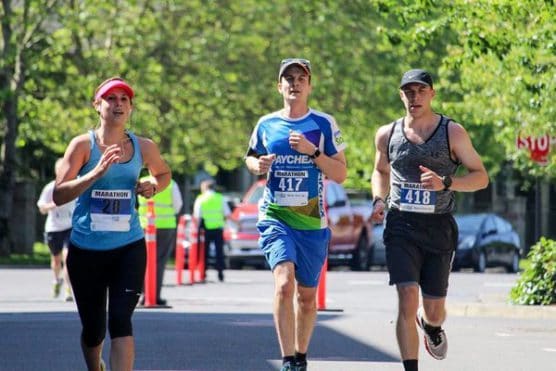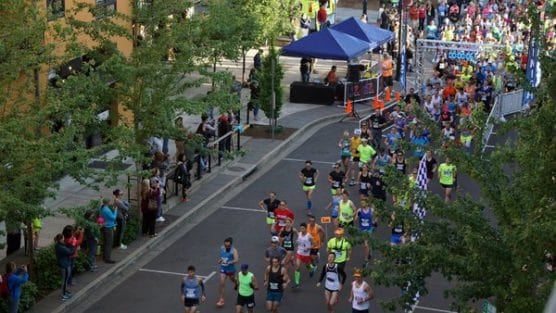 All photos courtesy Pacific Northwest Marathon
Race Weather & Climate
Nestled near the confluence of the Willamette and McKenzie Rivers in western Oregon, about 50 miles east of the state's coastline, Eugene typically sees some of its mildest temperatures and driest weather of the year in September.
September 16 average low: 47ºF
September 16 average high: 77ºF
Course Map
See the race route map for the Pacific Northwest Half Marathon here.
Starting Time
7:00 AM – full marathon
8:00 AM – half marathon
9:00 AM – 5K
Fees
$60 and up for the half marathon
$85 and up for the full marathon
$30 and up for the 5K
Registration
To reserve your spot in the 2023 running of Eugene's Pacific Northwest Marathon, Half Marathon or 5K race, register online at RaceEntry.com here.
Official Race Website
www.pacificnorthwestmarathon.com
Comments
Ever run in the Pacific Northwest Half Marathon? Share your impressions here, as well as anything you learned about the race that you think other runners/walkers should know.