Sunday, November 6, 2022 • Northampton, PA • Course Map

Runners looking for the chance to set personal record times will have that opportunity at Northampton's Delaware & Lehigh Heritage Half Marathon Run/Walk, which makes its annual running along the fast and flat D&L Trail that winds along the Lehigh River, just over an hour's drive away from Philadelphia.
Named for the historic former railroad line that once served as a major transportation corridor for the Lehigh Valley, Lehigh & New England and Berksie railroads, the D&L Trail will one day stretch the full 165 miles that decades ago connected the former railroads between Wilkes-Barre, Pa., at its northernmost point and Bristol Township, just outside Philadelphia. Though not yet fully complete, most sections of the trail are open and in operation today.
At the D&L Heritage race, runners will actually make their way across segments of the trail that opened to the public for the first time on the day of the race in 2013, a "maiden voyage" of sorts as the first runners and walkers to travel those portions of the trail.
Runners will start the race in nearby Statington at Northern Lehigh High School, just off North Centre Street. From there, runners head onto Walnut Street and then onto the D&L Trail, which will take them south along the Lehigh River all the way in to Northampton, where they'll cross the finish line in Canal Street Park at 16th Street.
From there, runners make their way along Smith Lane, Laubach Avenue and Canal Street and then head north along the D&L Trail as it winds alongside the river, and takes them through communities and townships like Walnutport, Treichlers, Cementon and Northhampton.
Runners continue to follow the river all the way to the finish line in Canal Street  Park at 16th Street.
With a time limit of 4 hours, 30 minutes, walkers are welcome in the half marathon–there's even a separate awards category for walkers.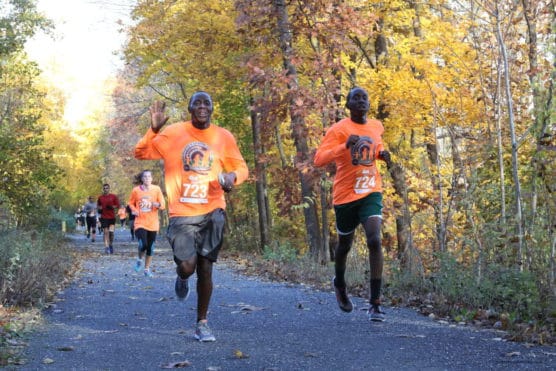 Race Weather & Climate
Nestled along the banks of the Lehigh River in eastern Pennsylvania, about 65 miles northwest of Philadelphia and roughly 90 miles west of New York City, Northampton typically sees November temperatures that average between 33°F and 51°F, while rainfall totals average about 3.7 inches for the month.
On race day (Nov. 6), the average low is 36ºF and the average high is 56ºF.
Past Results
Course Map
See the race route map for the Delaware & Lehigh Heritage Half Marathon here.
Starting Time
8:00 AM
Fees
$70 – $80 for the half marathon
Registration
To reserve your spot in the 2022 running of the Delaware & Lehigh Heritage Half Marathon, register online at RunSignup.com here.

Official Race Website
Comments
Ever run in the Delaware & Lehigh Heritage Half Marathon? Share your impressions here, or post your review in the Comments below.