Sunday, November 12, 2023 • Northampton, PA • Course Map

Runners looking for the chance to set personal record times will have that opportunity at Northampton's Delaware & Lehigh Heritage Half Marathon Run/Walk, which makes its annual running along the fast and flat D&L Trail that winds along the Lehigh River, just over an hour's drive away from Philadelphia.
The D&L Heritage now race features an updated course, established in 2022. The out-and-back course is flat and fast, featuring only 70 feet of elevation change—perfect for setting that PR!
The race course follows the former Lehigh Valley Railroad, which is now a crushed limestone path.
From the start/finish line in Riverview Park, runners head south on the D&L Trail to Slatington.
Shortly after mile 5, they'll cross the Lehigh River and follow the Walnutport Canal Spur to the turnaround point near mile 6.5. Runners then retrace their steps back across the river and to the finish line in Riverview Park.
The updated course is guaranteed to be scenic and serene. According to organizers,"Your journey will entail a peaceful route through lush forests, past waterfalls, and towering rock cliffs with breathtaking views of the Lehigh River."
With a time limit of 4 hours, 30 minutes, walkers are welcome in the half marathon–there's even a separate awards category for walkers.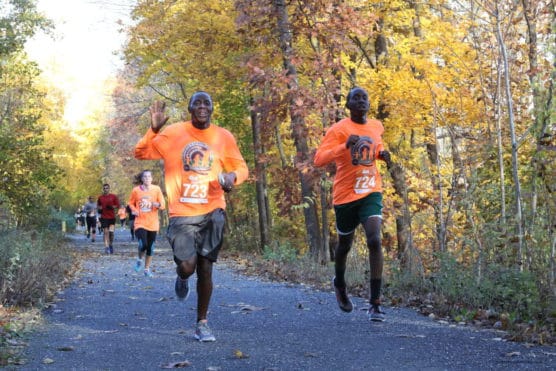 Race Weather & Climate
Nestled along the banks of the Lehigh River in eastern Pennsylvania, about 65 miles northwest of Philadelphia and roughly 90 miles west of New York City, Northampton typically sees November temperatures that average between 33°F and 51°F, while rainfall totals average about 3.7 inches for the month.
On race day (Nov. 12), the average low is 36ºF and the average high is 56ºF.
Past Results
Course Map
See the race route map for the Delaware & Lehigh Heritage Half Marathon here.
Starting Time
8:00 AM
Fees
$70 – $80 for the half marathon
Registration
To reserve your spot in the 2023 running of the Delaware & Lehigh Heritage Half Marathon, register online at RunSignup.com here.

Official Race Website
Comments
Ever run in the Delaware & Lehigh Heritage Half Marathon? Share your impressions here, or post your review in the Comments below.