Saturday, April 27, 2024 • Jim Thorpe, PA • Course Map

Set to run this spring through this charming small town in eastern Pennsylvania — which is sometimes called the "Switzerland of America" thanks to its natural beauty, architecture and mountain location — the Jim Thorpe Area Running Festival also features a mostly flat, forgiving half marathon course that's perfect for beginners.
The race is set to take runners from the trail entrance in the parking lot of the Lehigh Gorge Scenic Railway, whose early 20th century train cars are famous for the trip they offer riders along the Lehigh River and into the surrounding mountains, all the way up to Lehigh Gorge State Park.
From the starting line there, the race unfolds almost entirely along the Lehigh Gorge Trail, a biking, walking and running trail that stretches between the towns of White Haven and Jim Thorpe, and runs along portions of the old Lehigh Valley Railroad that ran here back in the mid-19th century.
Runners will follow the trail along the river for just over 6 1/2 miles, all the way to the half-way turnaround point in the hills just above town. There are some gently rolling hills, and you'll follow the course as it rises just over 150 feet between the starting line and the half-way point.
After you make the turnaround, you'll follow the exact course in reverse, all the way back to the train station for the race finish.
(Note: The race also will host a full marathon and 7-miler, which will take place on Sunday, April 30.)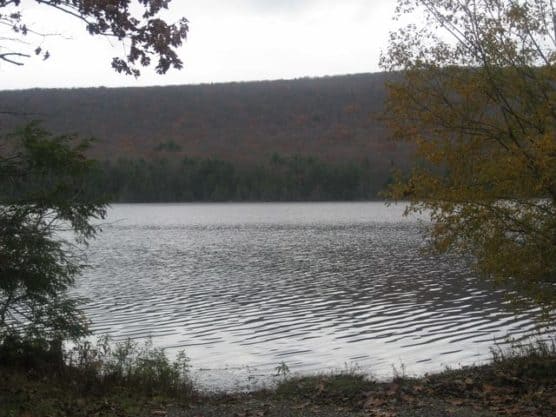 Race Weather & Climate
Nestled along the winding Lehigh River in eastern Pennsylvania, about 82 miles north of Philadelphia, Jim Thorpe sees mild to chilly weather in April, as temperatures average between the 45ºF and the 71ºF, while precipitation amounts average just under 5 inches for the month.
Course Map
See the race route map for the Jim Thorpe Area Running Festival here.
Starting Time
8:00 AM
Fees
$75 – $85 for the half marathon
$105 – $125 for the full marathon
$60 – $70 for the 7-miler
Registration
To reserve your spot in the 2024 running of the Jim Thorpe Area Running Festival half marathon or 5K race, register online at RunSignUp.com here.

Official Race Website
Comments
Ever run in the Jim Thorpe Area Running Festival? Share your impressions here, as well as anything you learned about the race that you think other runners/walkers should know.