Sat, November 4, 2023 • Kennett Square, PA • Course Map

Set for its 7th annual running along the rolling country roads just outside this one-square-mile borough in southeastern Pennsylvania that's become world-famous as the "Mushroom Capital of the World," the KSQ Mushroom Cap Half Marathon & Relay unfolds through this picturesque small town that's home to just over 6,000 souls.
Runners will follow an out-and-back course for the race, which starts and finishes on Birch Street in downtown Kennett Square. From there, the course takes runners first through town, which really is in the shape of a square (see the course map for more) and really does measure 1.1 square miles.
After you make your way past the first mile marker on Union Street, the course keeps heading north to the outskirts of town, taking runners up to the Union Hill Cemetery and then onto the country roads that lead out from the center of town, whose history dates back to its founding in 1853, when its first mushrooms were planted.
Ever since then, mushrooms have been its claim to fame, and today the mushroom farmers from the area produce more than a million pounds of the humble fungi every week.
There's even an annual Mushroom Festival in the late summer, which draws more than 100,000 to the area to take in a classic car show, a 5K run, and even the "National Fried Mushroom Eating Contest."
You're likely to see several of those mushroom farms out on the course, which in later miles heads out on an out-and-back along Locust Lane, and then continues on along Wollaston Road and Mill Road, and then heads back into town along Mill Road all the way to Mulberry Street.
There, you'll turn left to head back through the heart of town, and then turn again on Union Street and South Street, before heading back to Birch Street and crossing the finish line there.
Organizers say there will be 13 aid stations out on the course stocked with TailWind Nutrition for hydrating, and that the finish line festival will feature live music, Victory Beer and food trucks.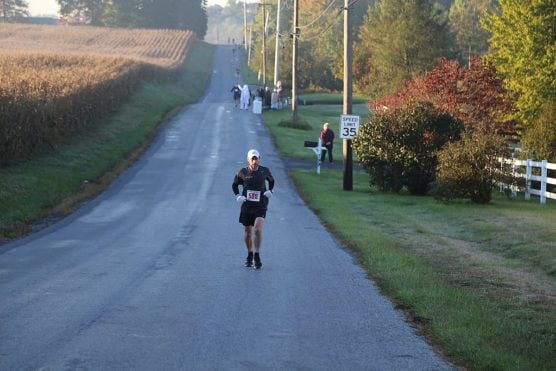 All photos courtesy KSQ Mushroom Cap Half Marathon
Race Weather & Climate
Nestled in the state's southeastern corner, about a 50-minute drive west of Philadelphia, Kennett Square typically sees quite cool and frequently wet weather in November, when temperatures average between the mid-30s and the mid-50s, and rainfall totals average just over 4 inches.
On race day (Nov. 4), the average low is 37ºF and the average high is 60ºF.
Past Results
Course Map
See the race route map for the Mushroom Cap Half Marathon here.
Starting Time
your choice
Course Time Limit
3 hours, 30 minutes
Fees
$75+ for the half marathon
$39+ for the 5 miler
Registration
To reserve your spot in the 2023 running of Kennett Square's KSQ Mushroom Cap Half Marathon or Relay, register online at RunSignUp.com here.

Official Race Website
Comments
Ever run in the Mushroom Cap Half Marathon? Share your impressions here, as well as anything you learned about the race that you think other runners/walkers should know.