Sunday, March 3, 2019 • Misquamicut, RI • Course Map
Filled with a variety of scenery, from the waves crashing against the Rhode Island shoreline to the rolling country roads between the small beach communities of southwestern Rhode Island, the Ocean's Run Marathon, Half Marathon & 4-Miler takes runners on a tour of the beach areas here along the state's shoreline.
One of a series of races that take place throughout the year in the Westerly, Rhode Island area, the Ocean's Run Half is organized by local resident Kathy Robbins's TriMom Productions, whose love of triathlons led her to found this race as well as annual sprint triathlons and a four-mile race.
The Ocean's Run course follows an out-and-back route that starts and finishes at Misquamicut State Beach, which lies on Atlantic Avenue, just south of nearby Westerly.
From there, runners follow the route's first three miles out west toward a beautiful and primarily residential area of the Misquamicut beach community before turning back, past the start and finish areas to the east along Atlantic Avenue and gorgeous beach views.
The second half of the half marathon course consists of another loop through Weekapaug, another residential area along the beach. Once runners start running along Atlantic Avenue again, they're in the home stretch of the race, with under three miles to go before reaching the finish line.
Overall, the course is fast, flat, and beautiful, with almost every stretch of the race providing beach views.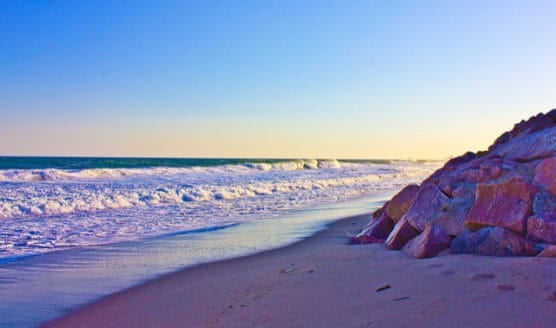 Photo of Misquamicut State Beach by Bob Familiar/flickr
Race Weather & Climate
Located along Rhode Island's Atlantic coastline, roughly 40 miles southwest of Providence, the area known as Misquamicut State Beach typically sees March temperatures between 28°F and 49°F, while precipitation amounts average just over 5.5 inches for the month.
On the day of the race (March 3), the average low is 29°F and the average high is 45°F.
Past Results
Course Map
See the race route map for the Ocean's Run Half Marathon here.
Starting Time
8:00 AM
Fees
$30 – $80 for the half marathon
$45 – $110 for the full marathon
$15 – $45 for the 4-miler
Registration
To reserve your spot in the 2019 running of Misquamicut's Ocean's Run Marathon, Half Marathon or 4 Miler race, register online at imATHLETE.com here.
Official Race Website
Comments
Ever run in the Ocean's Run Half Marathon? Share your impressions here, or post your review in the Comments below.