Sunday, March 13, 2022 • Bluffton, SC • Course Map

The serene, peaceful beauty of South Carolina's barrier islands – complete with white sand beaches, gentle ocean breezes and much milder temperatures than in the hot summer months – is the setting for this race, which takes runners on a loop route just a short drive from the beaches of nearby Hilton Head Island.
The streets of the city of Bluffton – which once was famous for its designation as a city that occupied just "one square mile" here in the southernmost tip of South Carolina and was also a center of secessionist sentiment and activity in the years leading up to the Civil War – unfold along the out-and-back 13.1-mile race route, and feature ample views of the May River that flows right by the city's downtown district.
From the starting line along Village Park Square, runners and walkers head out of the resort of Palmetto Bluff and then follow the route west onto Old Palmetto Bluff Road and Myrtle Ford Road for lots of long straightaway stretches that unfold past farms and stables and tree-lined rural roads.
After heading south along Myrtle Bay Road and Laurel Oak Bay Road, you'll make your way along the peninsula that forms this bend in the river, filled with views of the marshes which runners will see from the bridge as well as more scenic residential areas out here on the tip of the peninsula.
You'll also pass by the Palmetto Bluff Public Dock, which overlooks another of this area's scenic coastal marshes, with a number of long walkways out to the pier landings in the river.
Thanks largely to its location along the coast, the terrain for the race is nearly all flat for the entire 13.1 miles, which will help many runners no doubt if their goal is to achieve personal record times. The terrain also is paved throughout.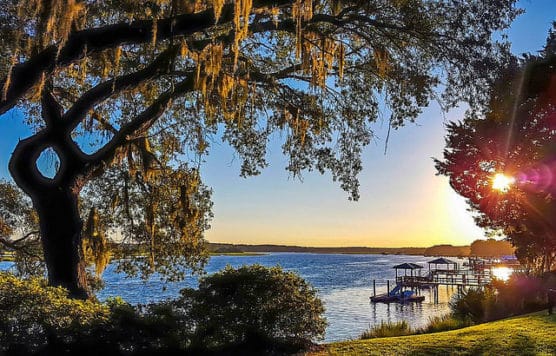 Palmetto Bluff, S.C. (Photo by Lori Bee/flickr)
Race Weather & Climate
Located in the southernmost corner of the state, just a short drive from nearby Hilton Head Island to the east and just over 20 miles west of Savannah, Ga., Bluffton typically experiences chilly to mild weather in March, when temperatures average between 46°F and 67°F.
On race day (March 13), the average low is 45ºF and the average high is 66ºF.
Course Map
See the race route map for the Palmetto Bluff Half Marathon here.
Starting Time
9:00 AM – marathon, half marathon, 10K
Fees
$65 – $85 for the half marathon
$90 – $120 for the full marathon
$40 – $60 for the 10K
Registration
To reserve your spot in the 2022 running of Bluffton's Palmetto Bluff Half Marathon or 10K race, register online at RunSignUp.com here.

Official Race Website
Comments
Ever run in the Palmetto Bluff Half Marathon? Share your impressions here, or post your review in the Comments below.