Saturday, May 27, 2023 • Memphis, TN • Course Map
Set for its annual springtime running on the Saturday of Memorial Day weekend, the Great American River Run unfolds with plenty of stretches both along the mighty Mississippi River and through the heart of downtown Memphis, taking runners past some of the most important sights in American culture and music.
The race, which is part of a weekend-long festival over the holiday called Memphis in May, follows an out-and-back route that starts and finishes along the river overlooking the Beale Street Landing, a park and open civic space with an iconic arch that's designed to be the place where "Memphis meets the river," and connects to hiking, biking and walking trails that wind up and down the Mississippi.
From there, runners will head west and south into the city, passing by the Lorraine Motel, the place where civil rights leader (and a modern founding father, if you asked me) Dr. Martin Luther King, Jr., was gunned down on April 4, 1968. Today it's the home of Memphis's National Civil Rights Museum, and features exhibits on the marches and movement of the 1960s to bring civil rights to all Americans.
Once they make it through the early miles of the race, runners make their way toward downtown and run for brief stretches along Beale Street, the heart of the city's music scene.
You'll also run past the FedEx Forum, the home of the Memphis Grizzlies basketball team, and AutoZone Park, the home of AAA-level minor league baseball's Memphis Redbirds, an architectural masterpiece that's built in much the same style as Baltimore's Camden Yards.
Later miles — much of the course is fast and flat — unfold on Mud Island, especially in the race's second half, before bringing runners back to Riverside Drive where they started for the race finish.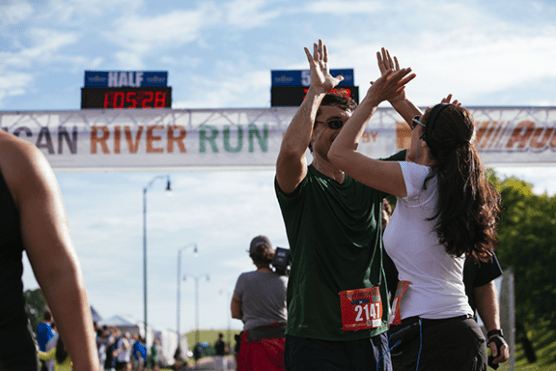 All photos courtesy Great American River Run
Race Weather & Climate
Nestled along the banks of the Mississippi River in western Tennessee, just across the state line from Arkansas, Memphis typically sees mild to moderately warm weather in May, with plentiful rainfall year-round — May is the city's fifth-wettest month of the year, with just over 5 inches of precipitation for the month.
May 27 average low temp: 67°F
May 27 average high temp: 82°F
Past Results
Course Map
See the race route map for the Great American River Run Half Marathon here.
Starting Time
See race website
Course Time Limit
4 hours
Fees
$45 and up – half marathon
$30 and up – 10K
$25 and up – 5K
Registration
To reserve your spot in the 2023 running of Memphis's Great American River Run Half Marathon, 10K or 5K race, register online at RaceRoster.com here.
Official Race Website
Comments
Ever run in the Great American River Run? Share your impressions here, as well as anything you learned about the race that you think other runners/walkers should know.